Things only a newly-wed bride knows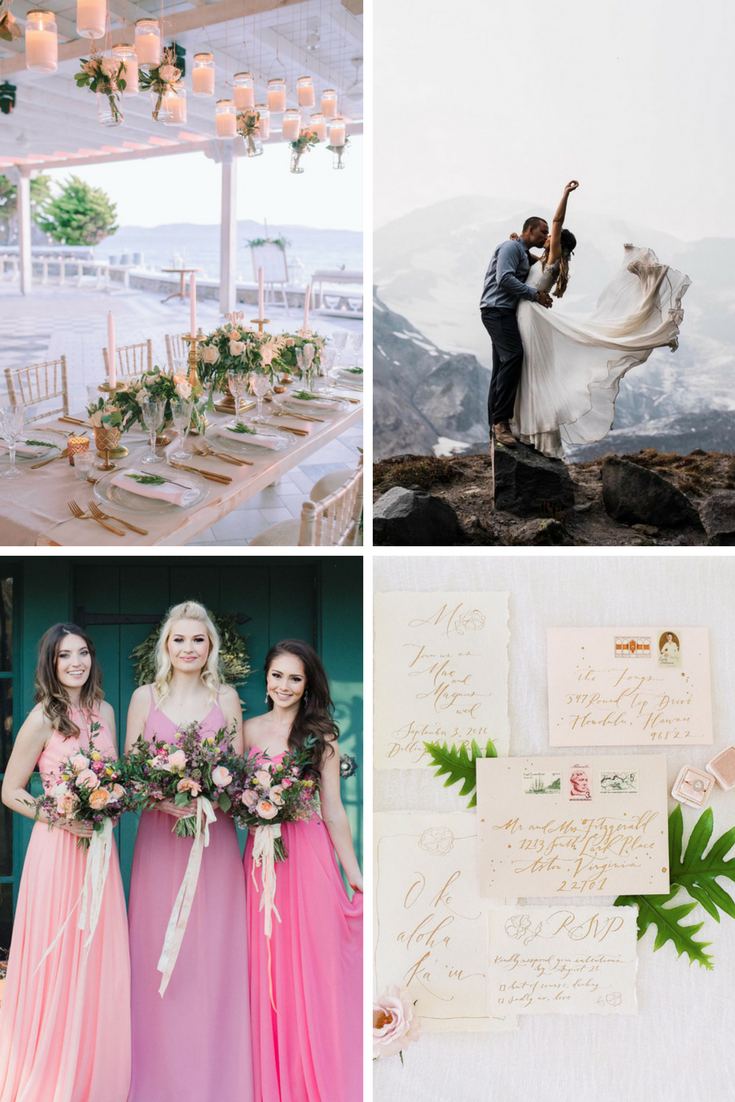 We've talked to some recent brides about what they wish they'd known before their wedding day.

Here's what one told us.
"You can never be sure exactly everything is going to be exactly 100% as you want it. I was a real control freak and thought I had everything sorted. I'd Pantone colour co-ordinated my invitations, the bridesmaids sashes, my seating plan and wedding favors. Hey - even the flowers in my wedding bouquet matched up.
And then my fiance got a black eye two days before the wedding when he fell off his mountain bike. Nope, I didn't see that coming either. Thankfully he didn't break any bones but the wedding photos were certainly interesting! "
Go with the flow

You see, there are always going to be some things that are out of your control and it's best not to stress about them. Better to take a deep breath and leave it to the Universe.

So what exactly are these things (black eyes apart)?
1. The Weather
You may have planned a destination on a hot and sunny beach. Or maybe you're having a rustic wedding. The thing is, the weather will always - but always - have a mind of its own.

If you're having a beach wedding somewhere exotic then it may be superhot that day. In which case, you need to have back-up sunshades at the ready for people to shelter underneath. And check the weather at your destination at the time of year you're marrying to make sure that it's not monsoon or hurricane season. Find out about air-conditioning. Because whilst getting married on the sand at midday might be romantic, you may all want to slope off into somewhere shady and cool for the afternoon (and then come out to dance under the stars in the evening).
2. Emotions
A wedding day is a perfect storm of emotion. Bear in mind the potential flashpoints. For example, if your parents have both remarried to other people then there could be an atmosphere. Have a word with them beforehand and tell them what you expect. Avoid run-ins by sitting certain couples separately.

Children can get overtired and scratchy - so have a chillout room for little ones where they can recharge their batteries, watch a movie quietly or nap.

And if a friend has recently broken up with a boyfriend and no longer has a plus one, put her on a table where she'll have fun.
3. Pregnant Bridesmaids
You probably selected your bridesmaids a while ago - and a lot can happen in the meantime. Including one of your bridesmaids announcing that her delivery date is very close to your wedding day. In which case, don't give her too much to do, just in case she doesn't make the wedding. Rope in another girl who's unlikely to be expecting a baby then who will be available to help you. (Also check out Dessy's maternity bridesmaid dresses.)
4. The Way You Look
This one might take you by surprise. After all, you've got your dress right, your hair right, your makeup - it's all decided. However the lead up to your wedding day can be stressful so if you're prone to breakouts and skin conditions exacerbated by stress (eczema and psoriasis for example) just bear in mind that you might end up with a blemish on your skin just when you least want it. To reduce the likelihood of this happening don't have a facial just before your wedding day and don't embark on a new skincare routine either. Stay as calm as possible - you might want to investigate meditation techniques to help you stay grounded.
5. No Shows
Some relatives - particularly those flying in from distant places - could have their travel plans interrupted by bad weather, strikes or even illness. Again, be prepared for this to happen and if somebody can't come last minute then don't make a big deal of it. There's nothing you can do about it. Instead, make sure that your wedding photographs are wonderful, that you get the event videoed so that you can share it with them afterwards.
The important thing to remember is that it's your wedding day and there are always going to be unforeseen hiccups that you can't do anything about. Take them in your stride and enjoy every moment, rather than focusing on what can't be changed and what can't be helped.
Image credits clockwise from top left: Wedding Chicks, Wedding Chicks, Wedding Chicks, Dessy