An easy, inexpensive and delicious DIY wedding idea - a DIY cupcake bar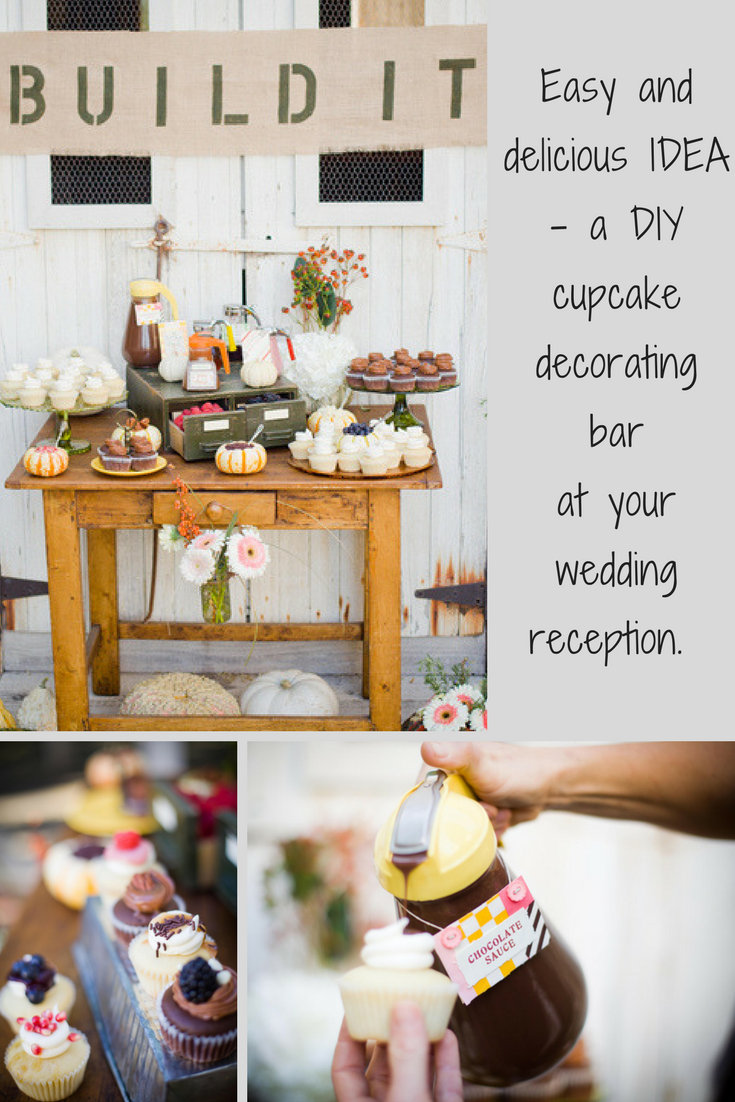 Whilst we love the idea of DIY weddings, we always urge caution because if you're not careful, you can end up taking on too much and getting really stressed out.
However, having a DIY cupcake bar would be just perfect, particularly if you're having an informal, buffet style event.
At a DIY cupcake bar, you create a table (with a sign on top like this one maybe, to instruct your guests) decorate it prettily and pile high with 'nude' cupcakes - maybe just plain, vanilla, chocolate. You can also have vegan and vegetarian cupcakes so all your guests are catered for - and maybe a gluten free version. (You'll find a recipe for gluten-free cupcakes here).
Then have plenty of frostings and decorations to hand. Your guests can wander over and decide on the flavors and decor they want (there's probably going to be a bit of competitive decorating going on at some point too).
Planning ahead
This is a great idea because you can do so much of the planning before your big day. Make the cupcakes in advance and put them in the freezer. Whip up your toppings and keep them in the fridge. We've found some delicious frosting recipes here - including cookie dough, vanilla bean, dulce de leche ...
You can ask your caterer to lay out the cupcake table - just make sure it's obvious how you want it to look and where everything should go.
Don't forget to have plenty of spoons in different sizes handy.
Here's an easy and reliable plain and basic cupcake recipe from Martha Stewart with clear instructions.
Other ideas for frostings and toppings
Fresh raspberries, blackcurrants, blueberries ...
Pomegranate seeds
Different flavour frostings - blueberries, strawberry, chocolate, coffee, vanilla, fudge ...
Put sauces in pouring bottles and make handmade labels so everyone knows what they are
Decorating your table
Put plates at different heights for visual interest
A tablecloth can create a mood very simply. Opt for gingham or something floral if you're having a country style wedding or a classic block color if you want a more contemporary feel.
Things are probably going to get a little messy! So make sure there are plenty of serviettes around.
Don't forget to put flowers on the decorating table - small posies would probably work best rather than large arrangements.
Finally - if you've got young children at your wedding, then you need to make sure that they are supervised before being let loose on a cupcake decorating table. It could be great fun ... but get very sticky!
Image credits: A Beautiful Mess