Make sure you read this BEFORE you start bridesmaid dress shopping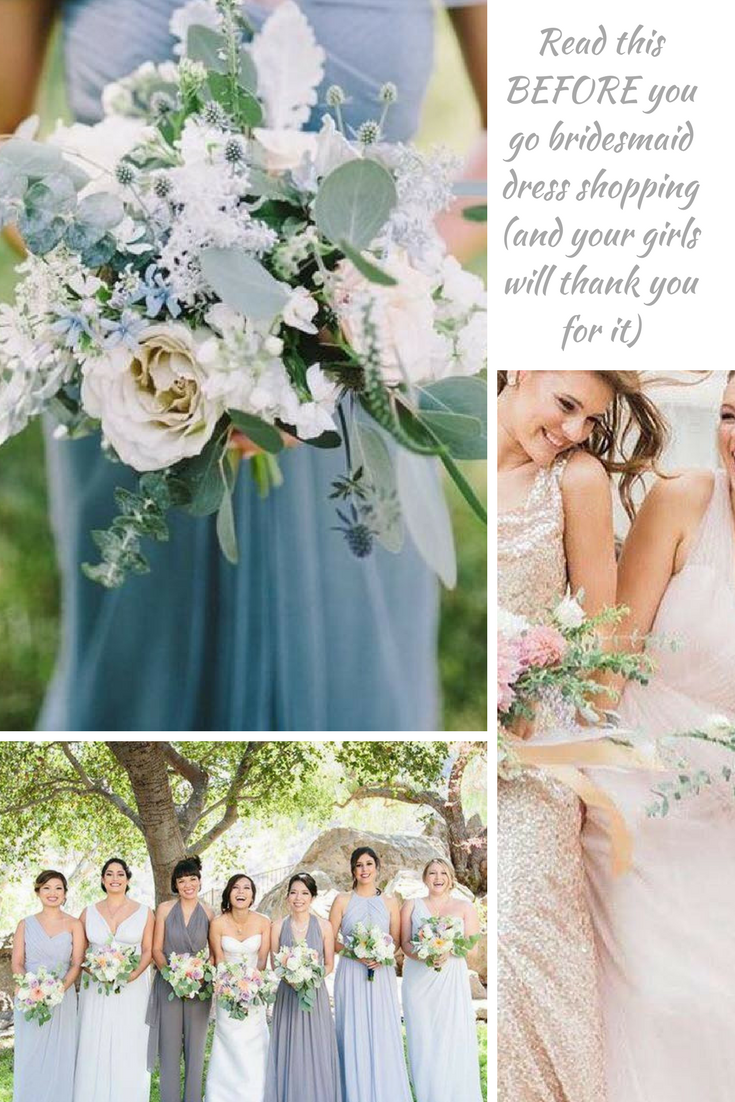 On your big day you want to have happy, smiling bridesmaids in your photographs. Fabulous pictures that show your squad looking and feeling great.
One way of making sure your girls feel that way is by making sure that they're wearing the right dresses. For them (as well as you). So here's how to get it right.
Think about your own wedding dress
Your bridesmaid dresses need to work with your wedding gown. So if you're wearing a boho kind of a dress, don't dress the girls up in formal structured dresses in fabrics like satin. Let it flow. Think about it. Will the looks you have in mind for your bridesmaids work with your wedding dress or do you need to consider making some alternations to your ideas?
What about the weather?
When are you getting married? You won't want to dress your girls in flowing chiffon in the depths of a snowy winter. Or heavier satins for a beach wedding. Think carefully about the style and materials and the time of year (you can order fabric swatches from Dessy while you make your mind up).
Do you really want your girls to all wear the same?
No two girls are exactly the same shape and size and each one will have features they are happy to show off and others they'd prefer to disguise. So you really don't need to dress your girls all the same.
Of course you can have the same color and the same length of dress, but mix it up a bit with different necklines and possibly waistlines. Your squad will thank you for it.
Allow time to get your bridesmaid dresses
If you're ordering from Dessy, we recommend that you order your dresses so that you receive them at least two weeks before your wedding day.
We have a big selection of in-stock bridesmaid dresses that are shipped 1-3 business days from the date of the order, whilst our special order dresses ship around 9-10 weeks from the time you place your order.
Wear shoes of the right height when trying on dresses
When your girls are trying out different dresses, make sure they are wearing shoes. If they're wearing heels on your big day, they'll make a difference to how the dress hangs (and the length of course). So take along heels of a similar height. Same thing if they're wearing flats - you need to see how the dresses look with flats - girls can change their minds you know!
Think about colors
There are some colors which make a girl look fantastic and others that make her look washed out. Ask your girls which colors they feel particularly suit them and which don't. Of course, at the end of the day it's up to you but you might like to moderate your ideas a little (you could have an ombre effect or dress girls in two different shades, which looks very chic).
All images taken from Dessy Facebook page.