Bridezilla symptoms - are you suffering from this pre-wedding illness?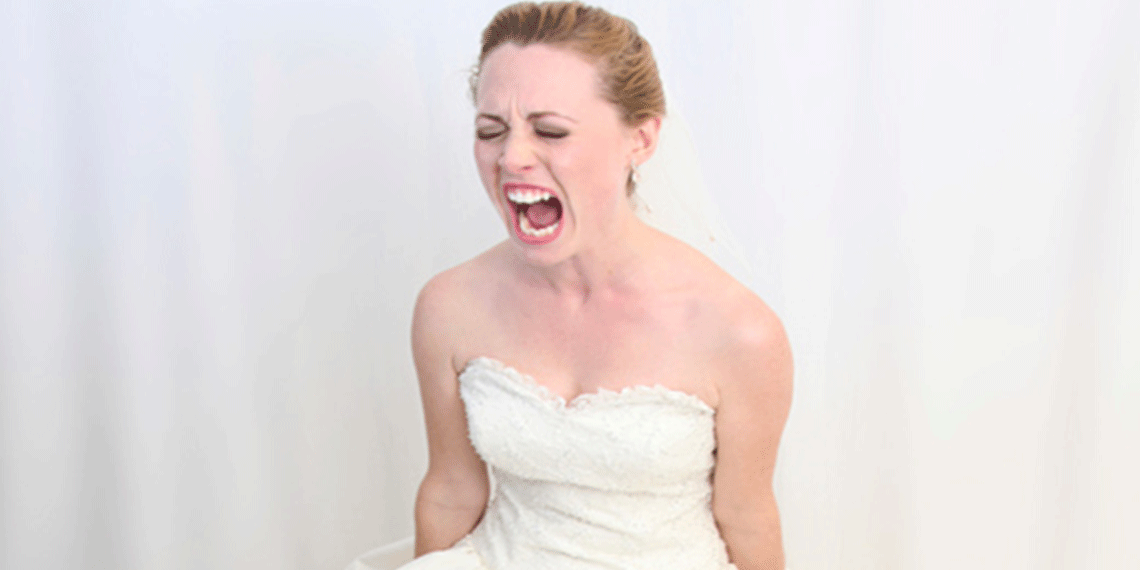 Bridezilla sickness can creep up on you without you even being aware of it. And it can have some devastating effects - like friends not speaking to you, people avoiding you, arguments ....
As with any illness, prevention is better than cure. So here's how to avoid it and spot the symptoms if you think you might already be affected.
You're feeling very, very angry. Quite a lot of the time
Happy, what's that? If you find yourself more angry than happy while you are planning your wedding, then you're probably well into the mid-stage of this disease. Take a step back, take a deep breath and try some meditation.
Demanding? Me?
Are your bridesmaids giving you the side eye? Then you're probably demanding too much. Okay, so they have duties but they don't have to devote their lives to you and your wedding. If you want to keep them as friends, then step back a little and hold off on the demands.
"I haven't got time"
Don't have time to go to the movies? Walk the dog? Visit your mom and dad? You have other things than wedding planning in your life you know. Make time for them and keep wedding planning in a predefined slot.
You think your phone is broken
It must be, because your friends, family and suppliers aren't returning your calls or e mails. Right away. Well, here's some news for you. Your phone is working just fine, it's just that they are tired of being given every minute detail. You don't need to send thousands of What's Apps, e-mails or calls to make sure everything is going well. Let people get on with their jobs without endless chasing.
Your fiancé has a headache
You don't need to share every conversation and every problem that is going on with your wedding to a point where it is creating arguments with your fiancé. Wedding planning shouldn't be a reason to argue, but a time that you two celebrate because it goes beyond the wedding, it's about the two of you.
Your credit card has stopped working
Take a step back and prioritize what is important on your wedding day and what is less so. If you are on a wedding budget, splurge only on the must-haves, not on everything because of the vision you have created about your wedding day.
Your bridesmaids WILL wear what YOU want. No question.
You want every girl to wear a four inch heel, you expect them to all get their hair and makeup done at the same place, you want a short dress when some of your girls would look better in long ones, simply because it's what you want. No, that's not the way to go. Let them have a say in their shoes and their bridesmaid dress style and maybe go for deliberately mismatched bridesmaid dresses so that all your girls are happy (and feel pretty).