Read this and you'll be mixing and matching your bridesmaid dresses BEAUTIFULLY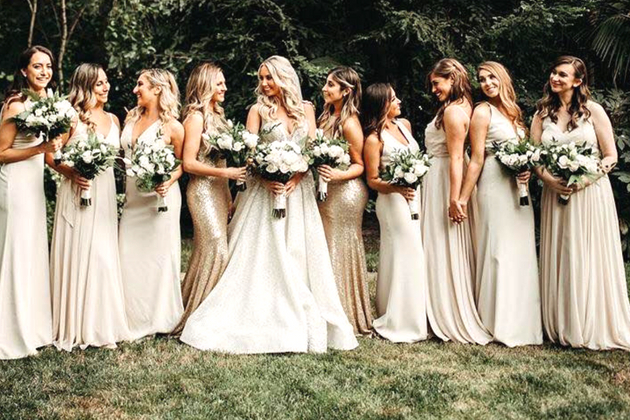 Well, it's about time. Why should your maids all wear matchy matchy? The picture above shows just how cool mixing it up can be (here with sequins and chiffons).
One style is unlikely to flatter all
One color can look a little 'samey'
Why not blend colors a little?
Brides are going for similar NOT identical
These days brides are starting to veer a bit away from the traditional one-for-all mentality when it comes to their bridesmaids. Instead they are opting instead for similar, but not identical styles.
This trend is catching fire. Why's that?
Bridesmaids get to have some freedom in their dress choice (who knew?).
Everyone ends up looking like themselves and feeling (and photographing) their best!

Elegant summer blue! Style 2970 and 2989 in mist.
Picture by @lindsay_hackney
By default, girls are going to choose something that's flattering and that they feel confident wearing.


A bridal party with a view. Doesn't get much better than that! Everyone is in our Alfred Sung collection in Pearl Pink
Going rogue is not an option
Giving your best gals some freedom of choice doesn't mean that you let them go rogue though. It's important to set up some pretty strict stipulations to keep everything look organised and elegant. We've outlined the rules that will ensure everyone is happy and that your bridal party looks chic and sophisticated.
1. COLOR - Choose one or two Pantone shade(s) for your ladies. If you have just a few bridesmaids (like four or less) you could get a little risky and let them choose within a color family (like deep blue). A color story is a MUST, so this point is non-negotiable. We recommend following the outlined color rule and combining it with one or two of the tips below:

2. FABRIC - Whether it's lace or lurex (just kidding!) give your girls a fabric that they must stick to. Chiffon and silk crepe are both awesome!

3. LENGTH - Just below the knee, tea length or gown length are all great options. Something we love is having your maid of honor wear a gown while all other bridesmaids go for a shorter length.
4. NECKLINE - This is less popular, but it's still a noteworthy idea. Keep it sweetheart, one-shoulder or a classic scoop and then let them run a little wild with the length and fabric!

Running to the reception in Hunter Green
Fun fact
All images used in this post are from real Dessy weddings featured on our Facebook page! And just how fabulous do these real life girls look!