6 Elegant Wedding Clutches That'll Enhance Your Look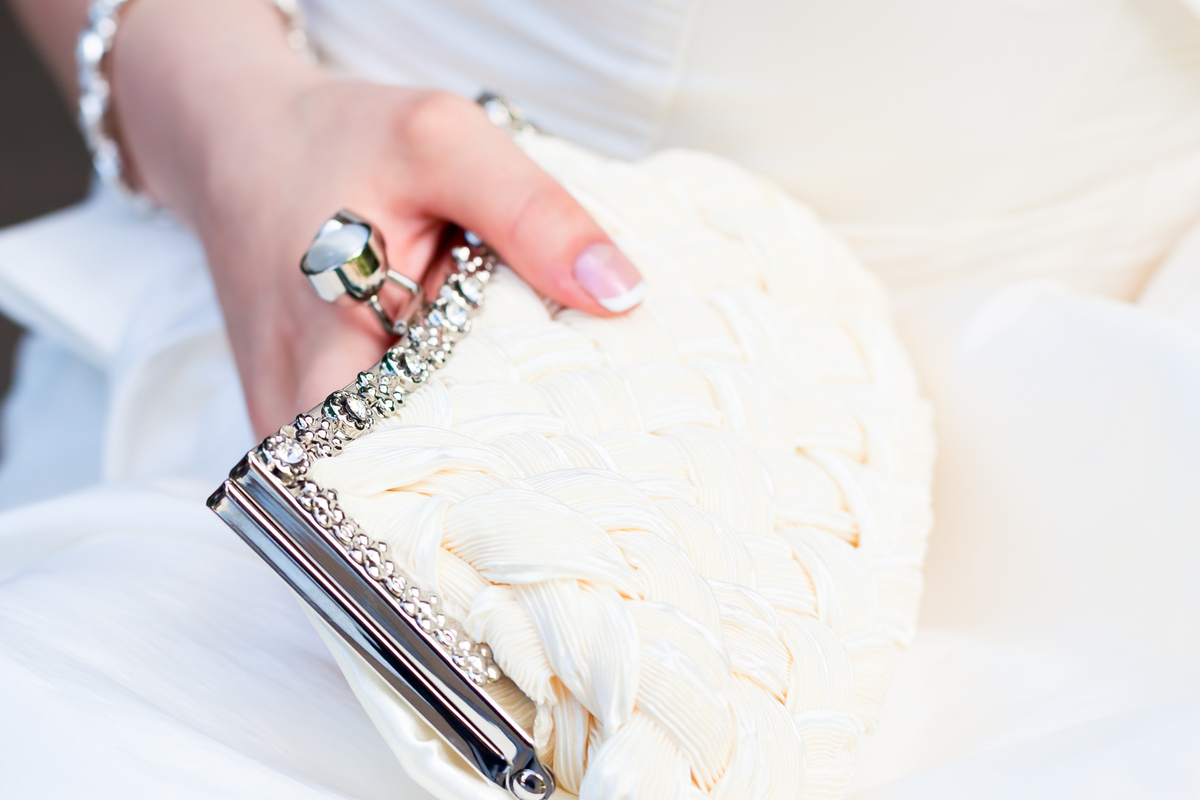 You've got the wedding dress, the shoes and the bridal jewelry you're going to wear for your big day. Yet, you still have a nagging suspicion that you're forgetting something…
Oh, that's right, the wedding clutch!
While investing in an elegant wedding clutch is entirely optional for brides, it's an important accessory that deserves your consideration. On top of being super practical (you've got to store your wedding day lipstick somewhere, right?), a wedding clutch adds yet another gorgeous detail to your bridal look.
With so many big decisions to make already, we know that choosing your wedding clutch can feel like just one more thing to worry about. To make it a little easier on you, here are six elegant wedding clutches to inspire your bridal look.
1. A Timeless Envelope Clutch
Modern yet timeless, the envelope clutch is the ultimate day-to-night bag. This wedding clutch style is perfect for brides who need something big enough to fit all their must-have wedding day essentials (mascara, breath mints, etc.) without overshadowing their gorgeous dress.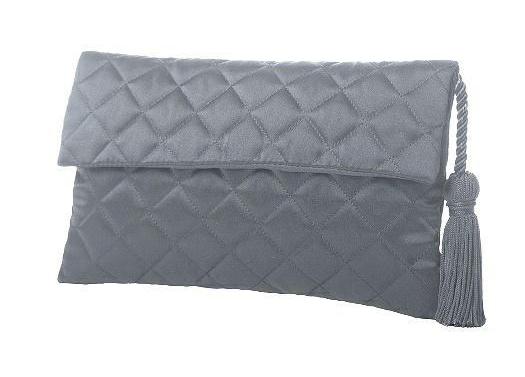 Another reason to invest in an envelope clutch is that you can use it long after your big day. Pick an envelope clutch in a neutral hue such as grey or beige and you now have a handbag that will effortlessly dress up casual outfits and put a polished spin on your office attire.
2. A Playful Minaudière
Worried about your wedding dress being a little too plain-looking? Jazz it up with a playful Minaudière. This decorative clutch style is typically adorned with eye-catching beads or crystals, making it perform double duty as a handbag and a piece of jewelry.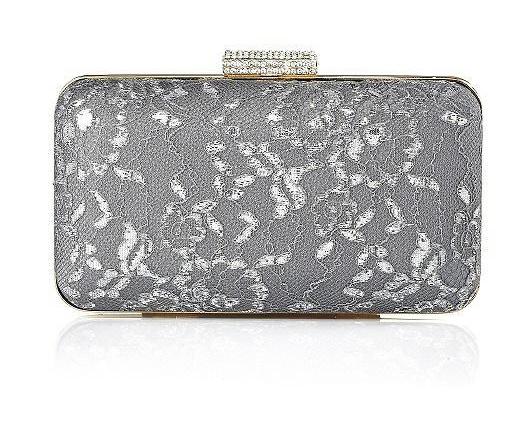 Minaudières are a stylish way for brides to show off a hint of their personality and enhance their bridal look. From vintage beading to modern embellishments, this clutch style never disappoints.
3. A Classic Snap Closure Clutch Purse
If you love putting a modern spin on classic style, you'll adore a beaded beauty of a bag. The snap closure clutch with classic beading is timeless and oh-so-elegant, making it a go-to style staple for modern and vintage-loving brides alike.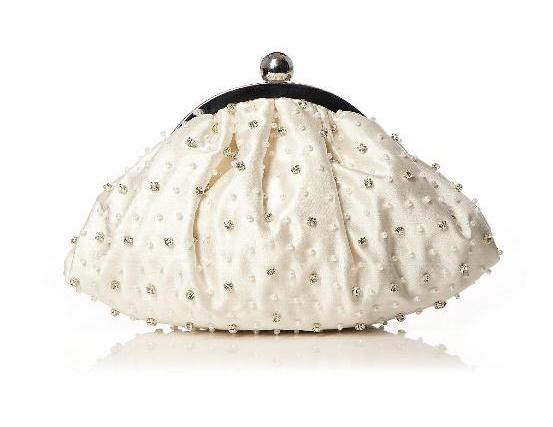 This type of clutch style looks particularly stunning with trim silhouettes and tea-length dresses. Just add a pair of gorgeous pearl earrings and a side-swept 'do for a look that is truly timeless and utterly romantic.
4. A Vintage Trapezoid Clutch
Want to stand out in a sea of rectangle bridal clutches? A trapezoid clutch is calling your name.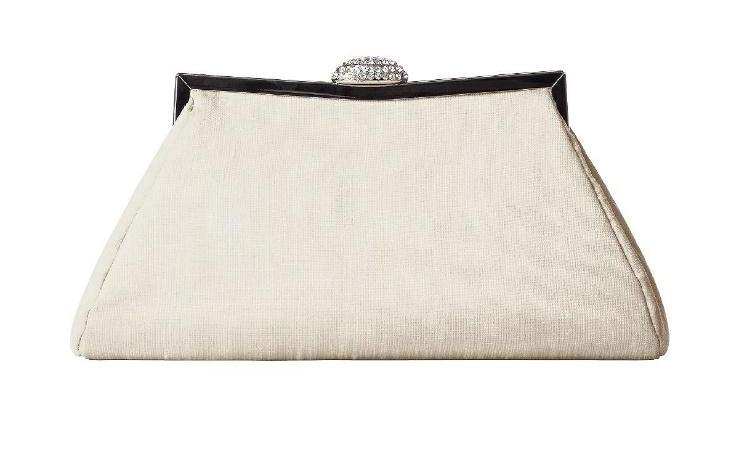 Choose a vintage-style trapezoid clutch made from lustrous fabric and features such as an eye-catching jeweled clasp that will instantly add glam to your ensemble. To top it all off, you'll have plenty of space to stash your phone, keys and the Band-Aids you'll surely need after dancing all night in those killer heels.
5. A Chic Twist Knot Clutch
If you already have "something borrowed" for your big day, consider an ultra-chic twist knot clutch as your "something blue." Small, elegant and decidedly modern, the twist knot clutch works with a variety of wedding dress styles and fits in at seaside nuptials, barnyard bashes and stately homes alike.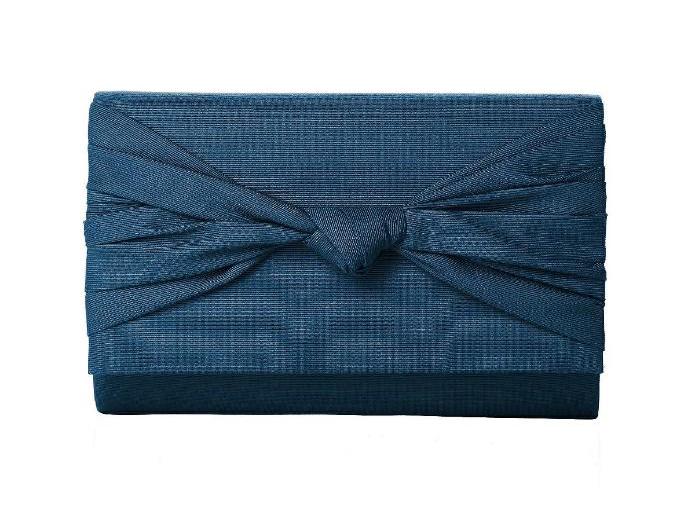 Searching for budget-friendly bridesmaid options for your best gals? Consider sharing the love by giving your bridesmaids a silk faille twist knot purse to wear on your big day. If your leading ladies are donning neutral bridesmaid dresses for your big day, this Dessy blue number is sure to pop against neutral beige and grey gowns.
6. A Luxurious Bow Handbag
If a twist knot clutch just doesn't do it for you, an ever-stylish dupioni clutch is another ideal bridesmaid gift for your leading ladies. If they're wearing off-the-shoulder bridesmaid dresses, the square shape of this bag will help restore balance to their look without taking away from the gorgeous design of their dresses.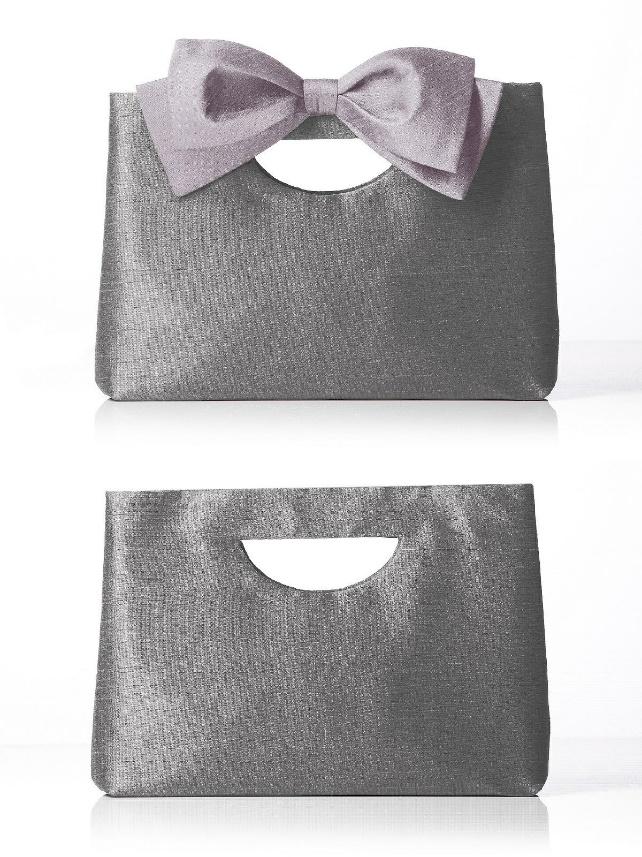 This chic dupioni handbag comes with an interchangeable bow to give your bridal style a hint of feminine flair. You can also create stunning contrast by picking a different color for the bow or keep your look simple by removing it entirely.
Finding a Wedding Clutch to Suit Your Style
Choosing a wedding clutch for your big day can be a difficult decision. If you're choosing clutches for your bridesmaids, things can get even trickier because you need to find a style that everyone can get behind.
These stylish clutches are universally adored by brides and bridesmaids alike. Plus, they won't burn a huge hole in your wallet! We call that a major victory.