5 Things to Keep in Mind Shopping for Fall Bridesmaid Dresses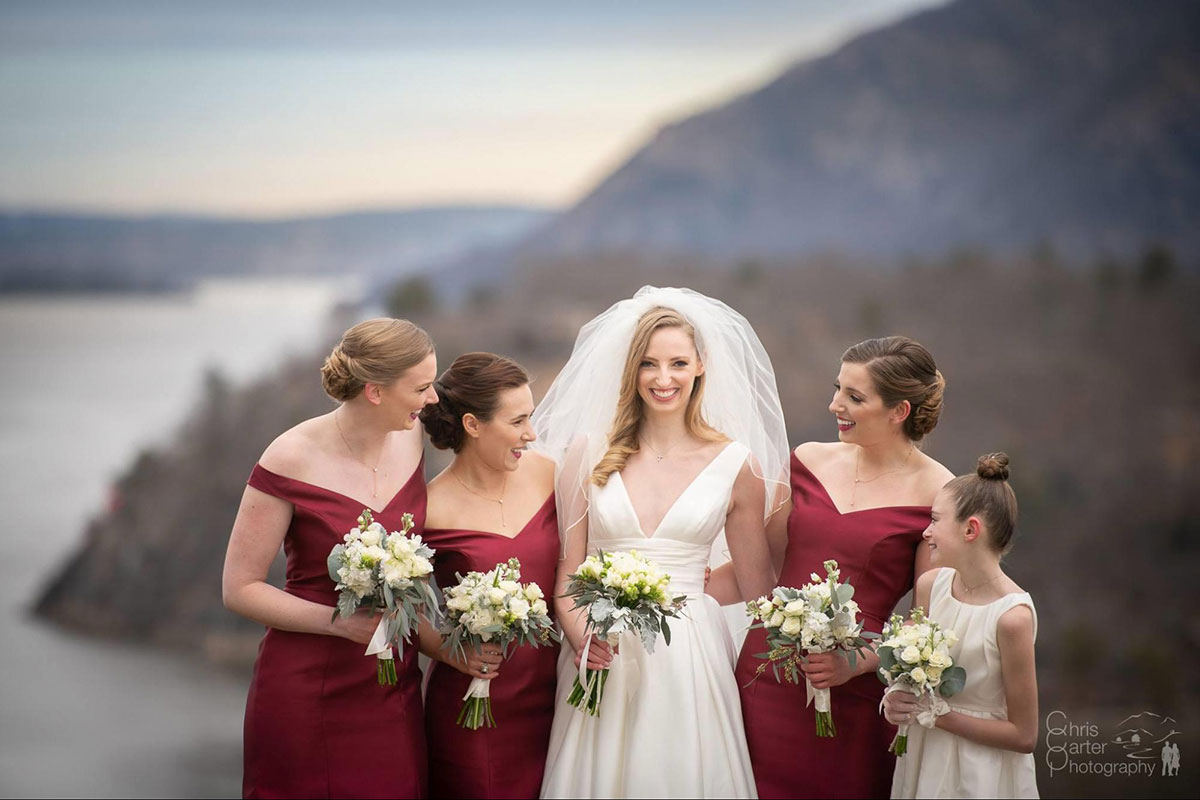 #DessyRealWeddings - Bridesmaids: Dessy Collection 3012; Color: Burgundy; Photographer: Chris Carter Photography
Is there anything more gorgeous than a dreamy fall wedding? With its rich colors and mild temperatures, it's no wonder why September and October — the two primary months of fall — are the most popular months for tying the knot.
If you're just now getting ready to plan your autumn nuptials, you'll need to choose your bridesmaid dresses carefully. From weather considerations to fall-inspired colors, here are five things to keep in mind as you shop for fall bridesmaid dresses:
1. Embrace Rich Colors
If there is one thing we love about fall, it's the colors. Full of rich reds, stunning oranges and lively yellows, there are few things more stunning than a fall-inspired wedding color palette.
While traditional fall colors will never steer you wrong, keep in mind that you're not strictly limited to bridesmaid dresses in red, orange and yellow hues. Virtually any rich color will work for fall, given that it's paired with the right complementary colors.
To switch things up, consider outfitting your bridesmaids in jewel-tone dresses (think amethyst, ruby, emerald and sapphire) for a moody fall color palette. You can also choose merlot bridesmaid dresses for your squad and balance out the rich wine hue with sage green, peach and gold accents.
2. Pay Attention to Fabrics
Depending on the location of your wedding, choosing the right dress fabrics for fall can be super tricky. For example, temperatures can drop quickly in the Midwest and the Northeast, whereas the South and the West Coast tend to enjoy much milder temps until late fall and early winter.
If you live in an area that gets cold early in the fall, you may want to go with heavier dress fabrics such as dupioni or satin. For fair-weathered affairs, stick to lighter fabrics such as chiffon to keep bridesmaids cool and dry under the hot sun.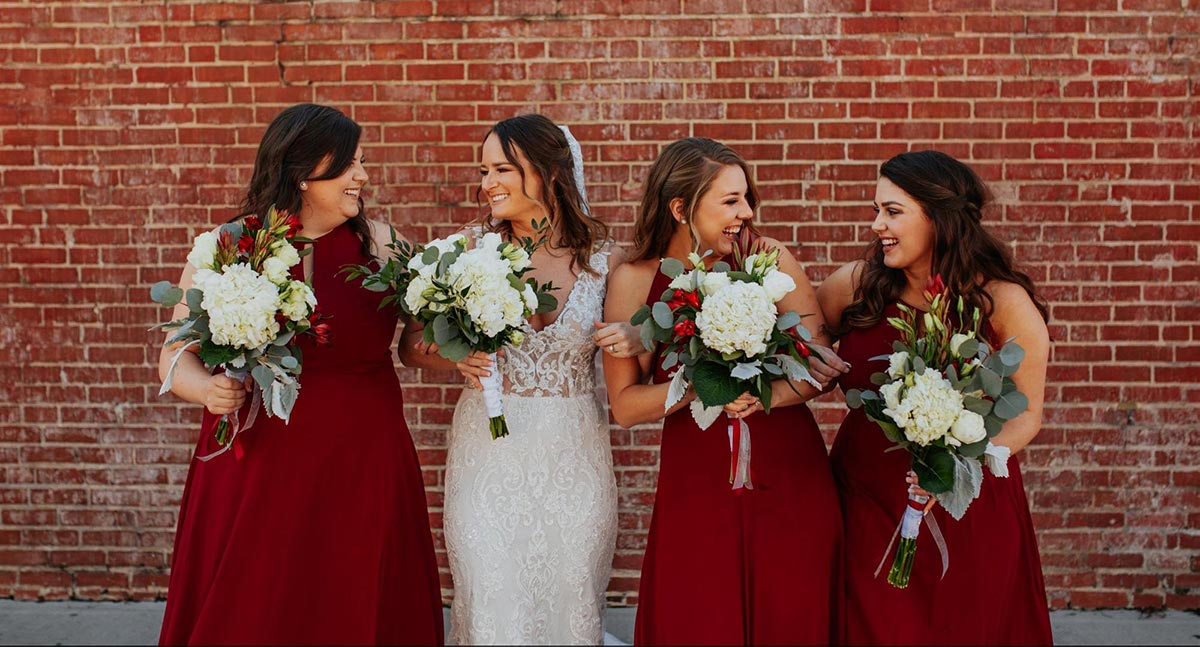 #DessyRealWeddings - Bridesmaids: After Six 1502; Color: Burgundy; Photographer: @ChasingLuxPhoto
3. Choose a Longer Length Gown
If you love the look of long bridesmaid dresses, you're in luck: Autumn is the perfect time to wear a long dress that captures the essence of the season.
Full-length bridesmaid dresses will shield your bridesmaids' legs from the crisp, fall air and help keep them warm during outdoor photos. And, since your bridesmaids' shoes will be hidden by the long dress, they can choose weather-appropriate footwear without worrying too much about the style.
4. Determine Sleeve Length
For chilly autumn weddings, you may want to choose bridesmaid dresses with sleeves for your bridesmaids. In addition to keeping them warm, dresses with sleeves can add a touch of sophistication to your bridal party style.
Do you keep going back and forth on whether you want sleeved bridesmaid dresses? In that case, consider a wrap dress for your bridesmaids.
From cap sleeves to one-shoulder necklines, a wrap bridesmaid dress can be styled in multiple ways to suit your bridesmaids, the venue and finicky fall weather. It's no wonder why wrap dresses continue to be a bridesmaid favorite.
5. Keep Your Venue in Mind
Finally, don't forget to consider your wedding venue as you shop for bridesmaid dresses. If you're going with a full-length gown, make sure that the style, silhouette and neckline are appropriate for the venue.
If you're getting hitched in an elegant ballroom or a church, long gowns with structured silhouettes and sleeves are always a safe bet. Plunging necklines may suit the dramatic setting of a ballroom, but for church weddings, you should keep the necklines modest.
However, you'll also want to keep in mind that longer gowns are inherently more elegant than short bridesmaid dresses. To make your full-length gown better suited for rustic-chic venues, consider opting for playful necklines with ruffles and choosing gowns with flowy fabrics to create a more understated look.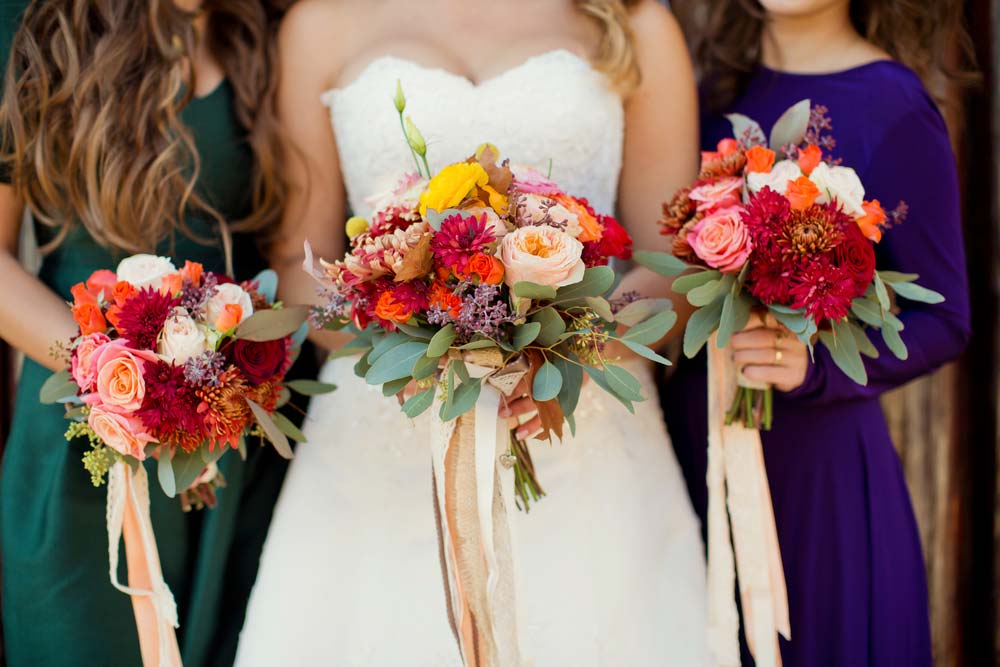 Additional Considerations for Fall Bridesmaid Dresses
If your bridesmaids are wearing strapless bridesmaid dresses, consider adding a shawl in your wedding colors to keep them warm.
Don't be afraid to play around with texture and dress details. For luxe fall weddings, consider dressing your maid of honor in a gorgeous sequin gown to make her stand out from your other bridesmaids.
Complete the look by giving your bridesmaid festive fall bouquets. Choose seasonal flowers such as chrysanthemums and dahlias, along with autumnal berries and grasses.
Yes, floral bridesmaid dresses can work for fall weddings. Consider outfitting one member of your squad in a floral bridesmaid dress in a rich hue (think marsala or deep orange) to mix up your bridal party look.
Finding the Perfect Bridesmaid Dresses for Fall
With its stunning foliage and crisp air, fall is arguably one of the best times to get married. However, the weather can be iffy around this time of the year.
By keeping these tips in mind, you can outfit your bridesmaids in gorgeous gowns that are comfortable, stylish and go perfectly with the season.