6 Must-Have Wedding Accessories for the Winter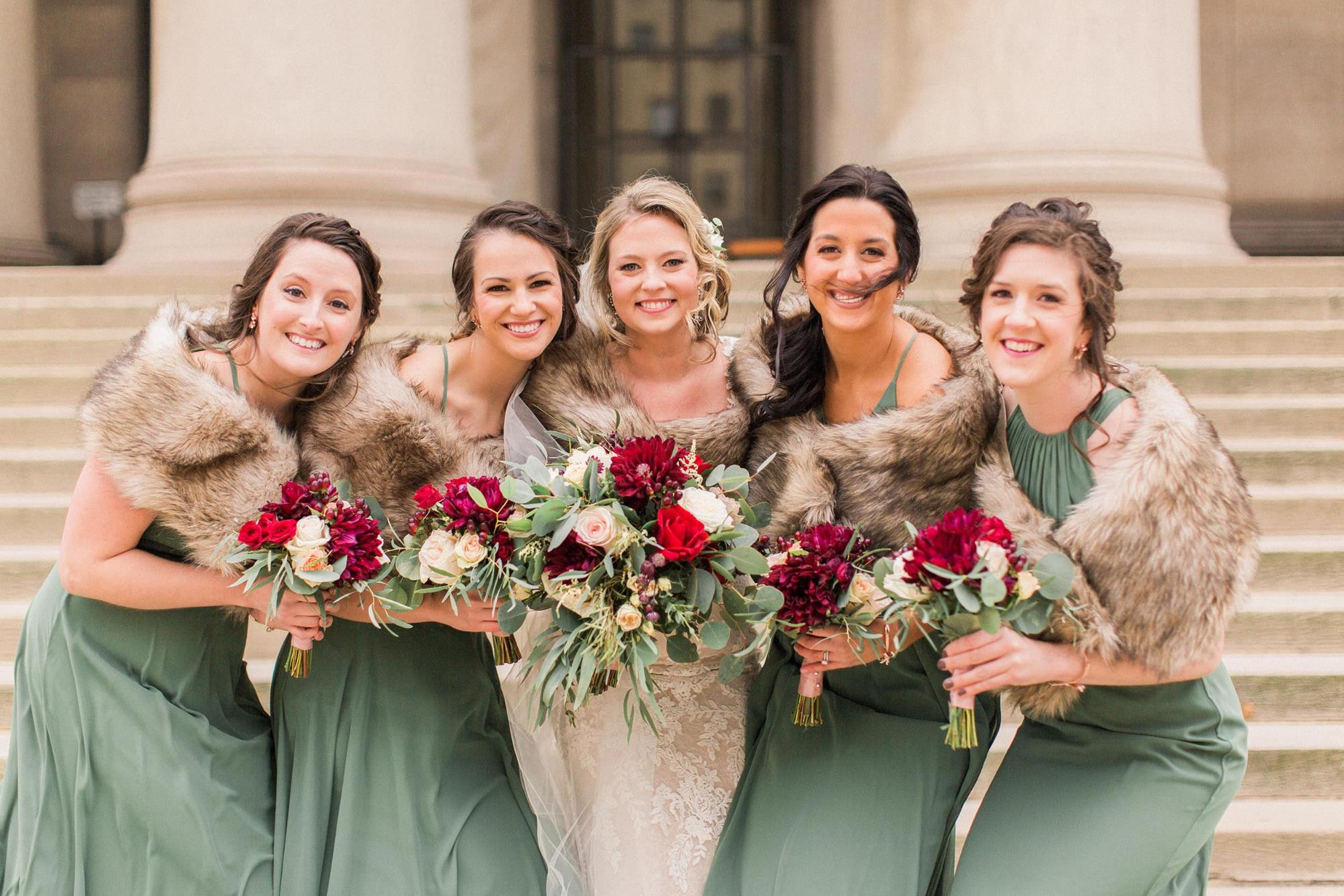 #DessyRealWeddings - Bridesmaids: Mix and Match Styles; Color: Vineyard Green; Photographer: Megan Lee Photography
Tying the knot in the winter? If so, you've made a fabulous choice. Being a cold-weather bride comes with a slew of benefits, such as:
Gorgeous snowy landscapes
Cheaper rates (hooray for offseason weddings!)
No humidity hair
Wedding menus full of comfort food
We could go on and on about the advantages of being a cold-weather bride. But the biggest perk of them all? Adding a touch of winter magic to your bridal party with a stunning array of winter wedding accessories.
From cozy shawls to chic winter boots, the best wedding accessories are just as stylish as they are practical. Below, we've rounded up a few must-have winter wedding accessories that will help you and your squad stay warm and gorgeous.
A Cozy Faux Fur Stole
A little snow and wind? Please, that's not nearly enough to deter you and your bridesmaids—especially when you're all donning glamorous faux fur stoles.
Warm, cozy and oh-so-beautiful, faux fur stoles have long been a favorite wedding accessory of winter brides. Not only do faux fur stoles serve a practical purpose, but they also look incredible against a snowy backdrop and work seamlessly with a variety of wedding styles, from boho-glam to vintage-inspired soirees.
An Elegant Evening Shawl or Wrap
Perhaps you want to be the only one who wears a dramatic faux fur stole. Hey, no judgment—it's your big day. You deserve to stand out!
In that case, wraps and shawls are a great option for your bridesmaids. You can wear your show-stopping stole while they wear wraps and shawls that pop against their bridesmaid dresses.
Another benefit to choosing wraps and shawls: They make the best bridesmaid gifts for your loyal squad. Your girls can use them again for elegant evening affairs, or as a chic scarf in the winter.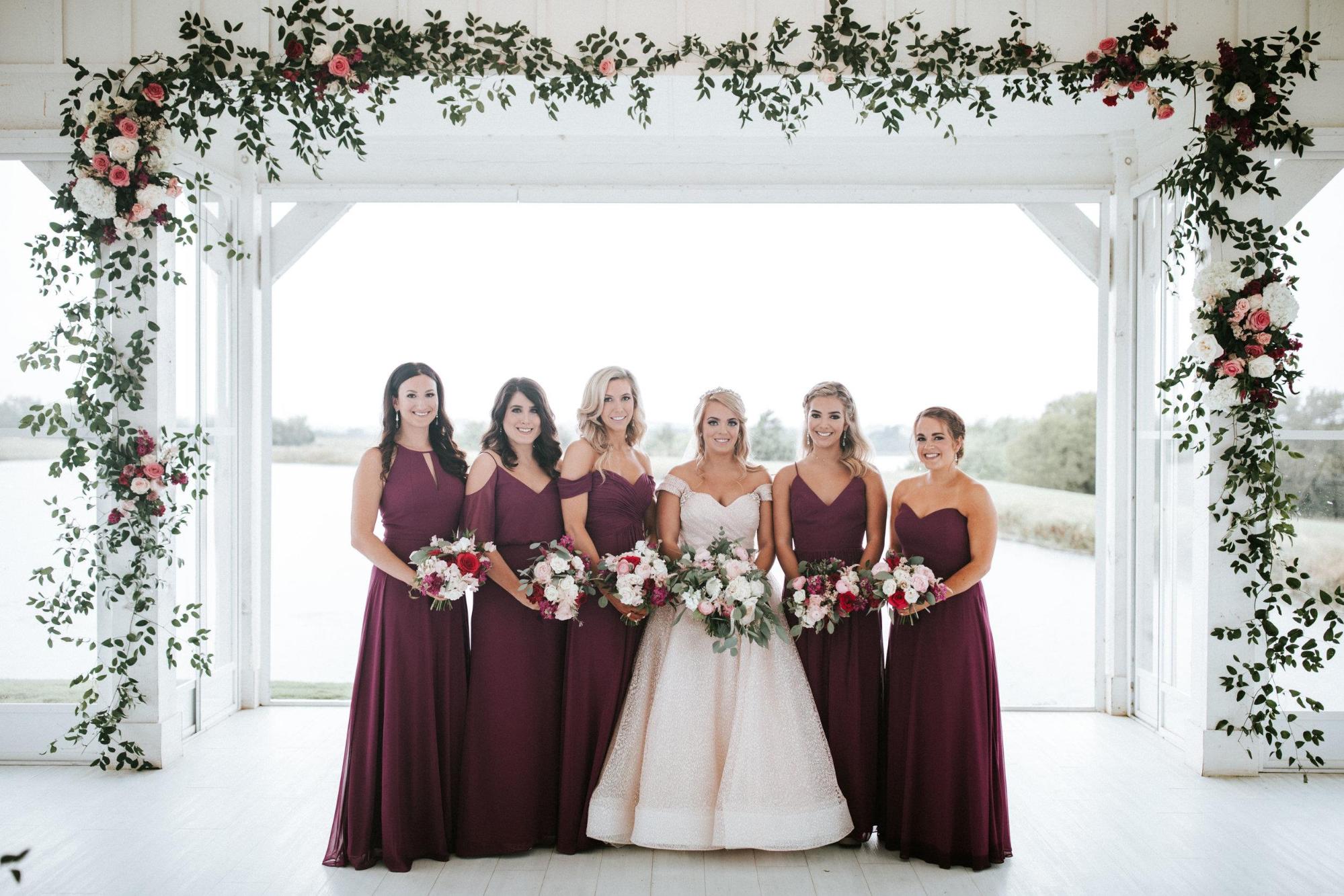 #DessyRealWeddings - Bridesmaids: Mix and Match Styles; Color: Wild Berry; Photographer: Bay Productions
A Dreamy Winter Wedding Bouquet
A seriously underrated perk of being a winter bride is getting to choose a jaw-droppingly gorgeous bouquet. From dramatic shades of crimson to icy-white bouquets fit for a true ice queen, you don't want to overlook this must-have wedding accessory.
For a moody bridal look, choose a bouquet with seasonal berries (holly berries, hypericum berries, etc.) and plum florals. Want to bring the holiday season to mind? Opt for a bouquet with white roses, pine and juniper for a floral arrangement that smells as good as it looks.
Stylish Gloves or Mittens
Believe it or not, there was once a time when a classy bride wouldn't be caught dead without wearing gloves on her wedding day. In fact, your grandma probably wore a pair to her own wedding!
Today, gloves are strictly optional and can make your winter nuptials all the more glam. Just make sure that you follow the rules of wearing wedding gloves for your big day.
If temperatures dip below freezing, consider wearing mittens instead. Mittens are much warmer than purely decorative gloves and can give your bridal ensemble a cozy look.
A Practical Pair of Wedding Shoes
Unless you want your toes to turn blue, wearing closed-toe shoes in the winter is a no-brainer. Bridal flats are a traditional shoe that will work year-round, but don't be afraid to consider bridal booties as a cool-weather alternative.
If you want to make a chic style statement, consider ankle-cut booties with a block heel. The ankle cut bootie is extremely versatile (you can definitely wear them again post-nuptials) and the block heel will help keep you from slipping on ice.
Don't forget: You can also wear booties for your wedding photos and then slip into bridal flats once you're inside. Who says a bride can't be stylish and practical?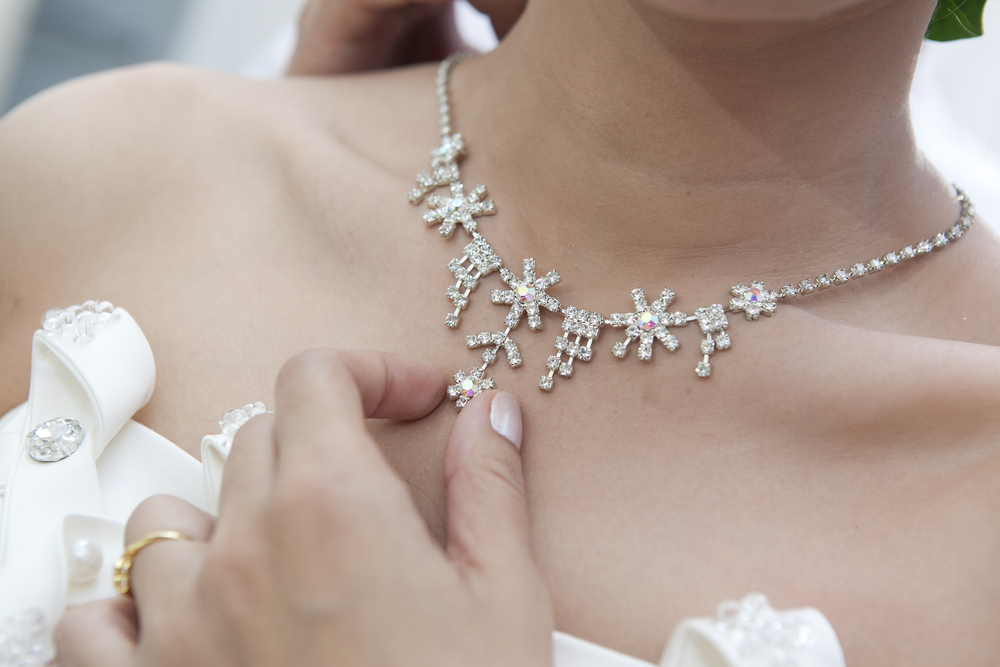 Silver Wedding Jewelry
If you haven't picked out your wedding jewelry just yet, consider choosing silver pieces to complete your bridal look. Silver jewelry is a great choice for winter brides because it glistens like snow and complements the beautiful winter landscape perfectly.
While your choice of necklace and bracelet will largely depend upon your neckline, consider wearing a dazzling pair of chandelier earrings for your big day. They'll add dimension to your white wedding dress and create a show-stopping look for your cold-weather nuptials.
Must-Have Accessories for a Dreamy Winter Wedding
Getting hitched in the winter gives you the unique opportunity to indulge in glamorous wedding accessories that might be off-limits to fair-weather brides. So, why not take advantage? With these stunning winter wedding accessories, you and your bridesmaids are sure to look absolutely gorgeous on your big day.