Why You Should Try a Cupcake Wedding Cake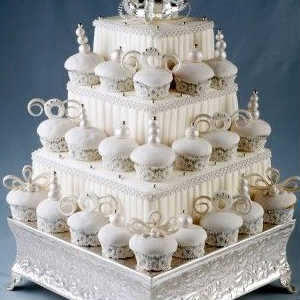 If you're stressing out about a wedding cake for an upcoming wedding, you should know that you are not the only person in the history of weddings who has stressed out about this. In fact, there are probably a lot of people worrying about the same thing that you're worrying about: the cake.

Not only is it complicated to try to find an affordable, delicious, and beautiful cake, but trying to imagine how messy things get when the cake cutting begins is another bit of anxiety to throw fuel on the fire. There is, however, a simple solution to the stress that tends to accompany wedding cakes.

The cupcake wedding cake.

Not only are cupcake wedding cakes something that you can make on your own if you're in the business of making your own wedding cake, but they make the cake experience easier on the guests, too.
Cupcake wedding cakes can be just as colorful, unique, and fancy as regular wedding cakes. With a cupcake wedding cake, however, you don't have to cut slices of a cake at the reception. Instead, everyone can just take the individual cupcakes from the cake. This makes it all much easier, right? Above is a picture of a cupcake wedding cake, and if this sparks your interest, I encourage you to do some research on these sorts of cakes. They're brilliant!