Eco-Chic tips for Your Eco Friendly Wedding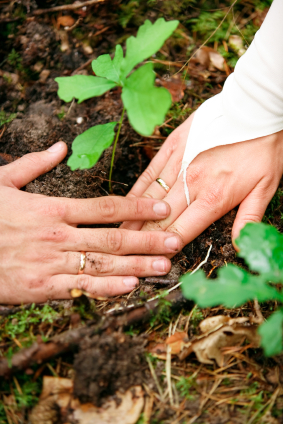 Eco-chic is on the minds of modern couples about to walk down the aisle. To reduce their carbon footprint, brides and grooms are looking at great new ways to reduce, recycle and re-use on their big day:
Reduce
Having an informal outdoor wedding? Give it an eco-upgrade by banning the use of plastic plates and other throw-away serving accessories.
Less is more, particularly on your wedding day. Only purchase wedding items that can be used more than once - for example, wedding favors, bridesmaid dresses and wedding party gifts.
Re-use
For a modern twist give guests miniature trees or flower seeds as table favors. Also, choose guest gifts such as cookies, chocolates or mini wine bottles that can be taken home and consumed.
Recycle
Give smaller, more intimate wedding receptions an eco-friendly personal touch by borrowing china from family members or friends. It'll help the environment and bring special meaning to your big day.
Add to table settings by purchasing glass and china accessories from second hand shops. Go for sleek, classic styles that can beautifully accent your overall table theme.