Eco Friendly Ideas for a Green Wedding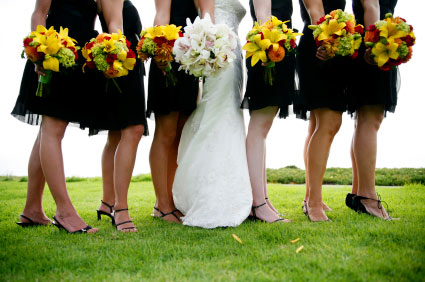 Eco-friendly Bridesmaid Dresses
Choosing dresses made from sustainable fabrics isn't the only green option for bridesmaid dresses. One of the most eco-friendly options is to choose dresses that your bridesmaids can wear again after the wedding. Even if you choose a dress handmade from eco-fabrics, a one-time use dress is just not as eco-friendly if it will never be worn again. Opt for classic colors and styles and involve your bridesmaids in the decision process so you will choose dresses that are sure to be worn again.

You may also want to look into pre-owned dresses. There are great resources online and you can even check with your local dress shop to see if there are any never-been-worn dresses that were returned due to wedding mishaps. And of course, bridesmaid dresses made from organic or sustainable fabrics are always green choices when buying new - and if they are simple and classic in style and can be easily re-worn, that's even better.

Eco-Friendly Bridesmaid Jewelry
When choosing jewelry for your bridesmaids, think timeless. Opt for items such as crystal or pearl stud earrings or a simple silver or gold chain. Have your bridesmaids check their jewelry boxes, they may even have such items already or they may be able to borrow them from someone. If you decide to go with something new, look for handmade jewelry and support fair trade or local artists. There are even a growing number of designers that offer jewelry made from recycled metals and conflict-free gemstones.

Eco-Friendly Wedding Flowers
Flower bunches in bright pinks, yellows and oranges are a great way to add some color and drama to your bridal party. Look for green wedding florists that offer local, organic or sustainably grown flowers certified by a reputable organization such as VeriFlora, Florverde, Rainforest Alliance, USDA or Fair Trade Certified.