How to Keep Your Pink Wedding from Going Overboard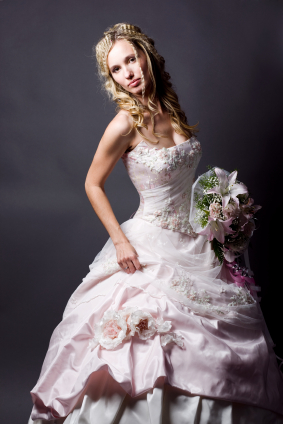 Pink has always been a hot color pick for bridesmaid dresses. Over the last few years, however, pink has also become a popular choice for bridal gowns.
Whether you want a delicate shade or something more vibrant, pink wedding dresses come in many hues today. But there are a few tricks to keep in mind to truly look pretty in pink on your big day.
Pink overkill
A pink wedding dress makes a dramatic statement. But to avoid color overload make sure your bridesmaids do not wear the same shade. Instead, choose neutral shades for their dresses such as cream, brown or black. These classic color options will make the perfect complement for any pink bridal gown.
In the pink...not
Many brides may want to carry the pink in their gown throughout their wedding décor. Don't. Again, avoid overkill. Go for complementary décor and flower shades that accent your big entrance, not detract from it.
Shop slowly
Whatever shade of pink you choose, don't rush when you are shopping for your wedding dress. A fashion-forward choice like this requires real confidence to pull off. Take your time. No matter what color you finally choose find the shade of pink that really suits your tastes.