5 Fall Bridal Looks for Modern Femininity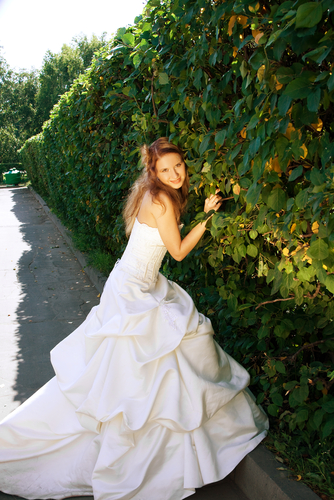 Fall's best bridal looks put the spotlight on clean sophistication and modern femininity. From new hemlines to touches of subtle color here's a look at what you might be wearing when you walk down the aisle.
Haute hues
Decades ago buying a colored wedding dress was impossible. Not any longer. Fall 09 introduces new pastel hues into the color palette for contemporary brides. Think blush pink. Go for mint green. Say yes to sky blue. From the palest shade of gold to delicate rose brides make a strong impression with Fall's subtle shock of color.
Simple elegance
A new emphasis on clean, streamlined bridal silhouettes is a strong trend for Fall 09. Even without any lace, crystal beading or other ornamentation this season's simple, sophisticated bridal gowns put the spotlight on pared-down glamour.
Take a bow
Girly bows are everywhere this season. From delicate little accents to big, showstopping bows placed daringly on bustles, trains and shoulders, couture bows are a brides best friend for Fall 09
Short story
Short bridal gowns are a big story for Fall 09. One of the strongest influences this season is the fashion-forward bubble skirt. Perfect for informal affairs, the shorter hemline and playful style gives non-traditional brides a fresh new option.
Sound the trumpets
The glamorous ball gown is back. But Fall 09's best bets are body-hugging, not poufy. The trumpet silhouette is the perfect pick for brides who want to make a big, red-carpet-worthy entrance on their wedding day. Hugging your curves in just the right places, this dramatic pick is packed with all-out glam.