DIY Wedding Bouquet with Felt Hearts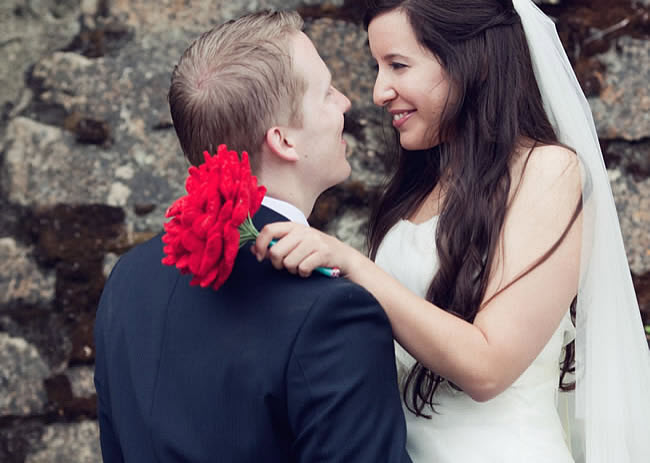 LaBelle Bride, one of my favorite wedding blogs full of truly unique and beautiful inspiration brings you this guest post. I am constantly in awe of the blog's amazing posts. They are full of inspiration, DIY ideas and real weddings. La Belle Bride is a must stop for your wedding planning inspiration.
OH BOY. OH BOY. OH BOY. It's DIY day! And this special DIY was inspired by a real bride featured on La Belle Bride. I became a wee bit obsessed with the adorable bouquet that Danielle (bride) had made for her vintage wedding. Which is why today we're making a...
DIY Felt Heart Wedding Bouquet


Oh, and did I neglect to mention that this crafty yet adorable little wedding bouquet costs less than $10?! Yes, a $10 wedding bouquet. It is possible! Here it is: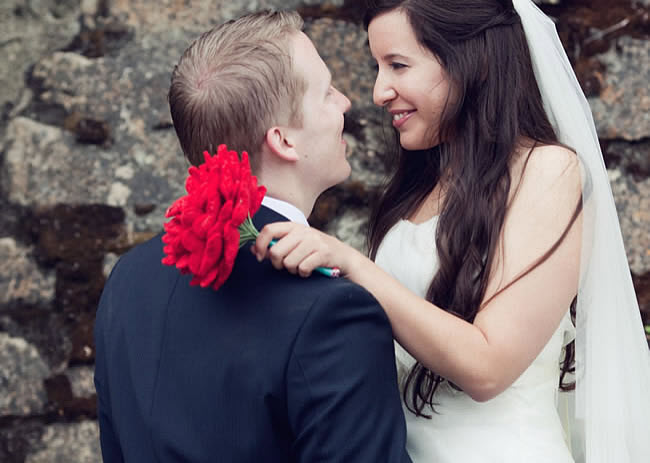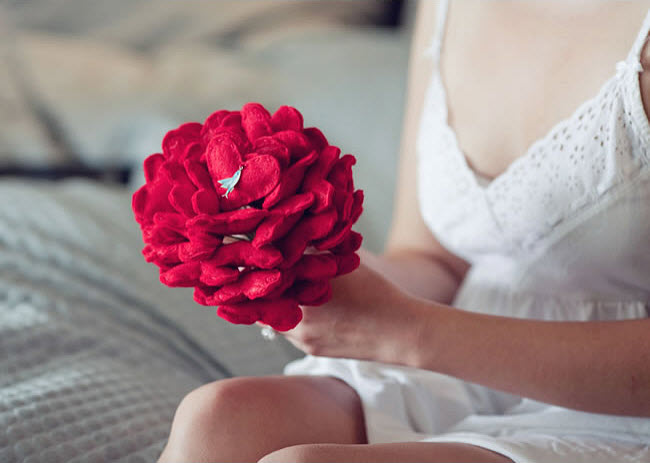 Materials:
Felt
Cotton Batting
Cloth Stem Wiring
Needles (large enough for embroidery thread)
Embroidery Thread
Scissors
Heart Cookie Cutter or Any Heart Template
Ribbon (thick and thin)
Floral Tape (optional)
Glue Gun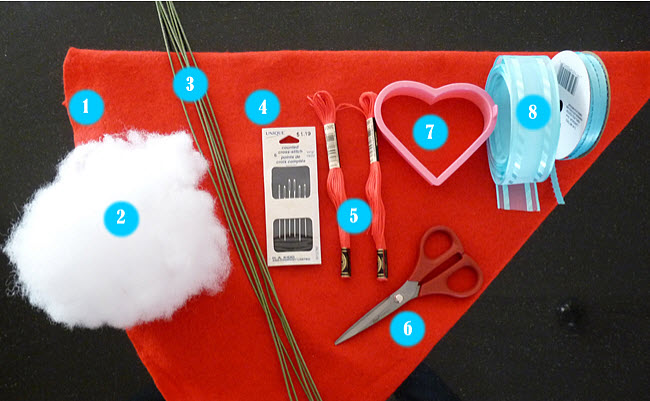 Instructions:

1. Using your cookie cutter or heart template trace out your heart shapes onto your felt. We used a heart cookie cutter that's about 3 inches tall
2. Cut out your hearts
3. Using your embroidery thread and a needle start stitching your hearts. Make sure that the sides you traced on are now facing inwards so that you don't have any pen/pencil marks on the outsides of your hearts
4. Stitch the entire way around your heart, leaving about 3/4 of an inch near the pointed end of your heart
5. Gently stuff your heart with a small amount of batting
6. Take your cloth wire stem and make a tiny loop at the end. Place the looped end inside the heart and begin sewing up the last remainder of your heart while you wrap neatly around the stem as well. The looped wire end will prevent your stem from coming out of the heart. Note: If you don't want long stems you may be able to cut your stems in half thus doubling your stem. There! Your heart-on-a-stick is done! Make as many as you'd like depending on what sized bouquet you'd like.
7. Once you've created all of your heart-on-a-sticks you can start arranging them in a bouquet. If you're on your own, use some floral tape to help secure the placement of each heart
8. Once you're happy with your arrangement, you can add your ribbon. Using a glue gun (sparingly) begin wrapping your ribbon around your stem. Use whatever width and texture of ribbon you'd like!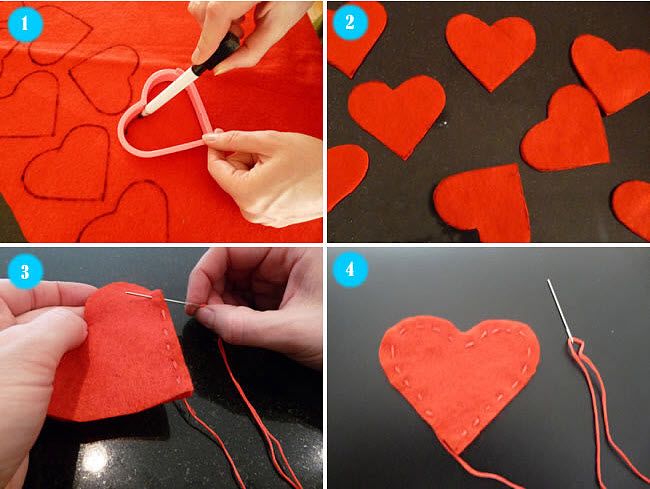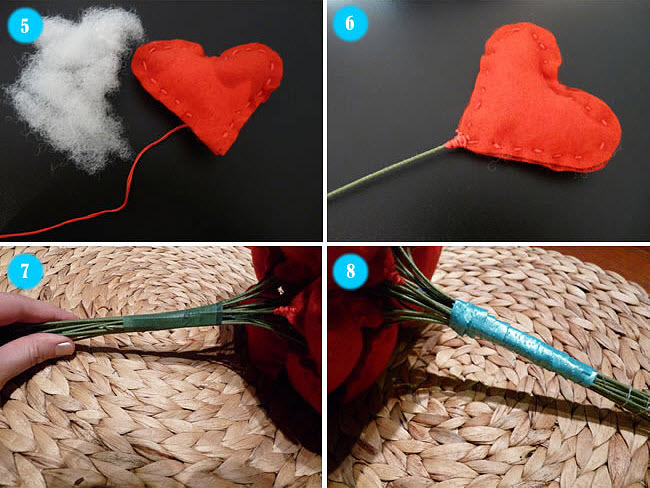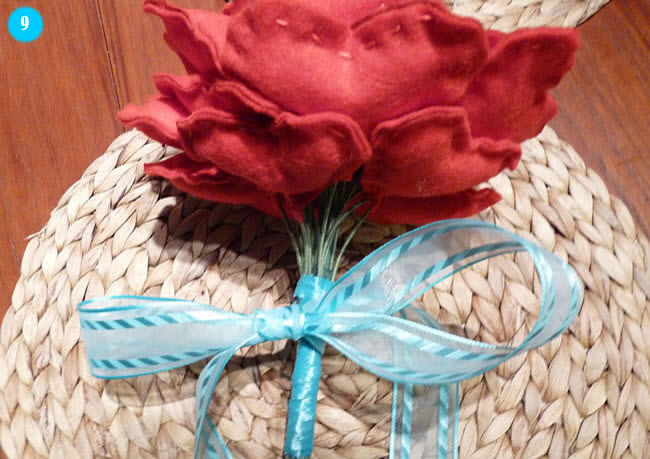 Cuteness. Like Danielle, you can choose to make small boutonierres using just the heart and sewing a safety pin on the back. Smaller felt heart bouquets would be perfect for bridesmaids too.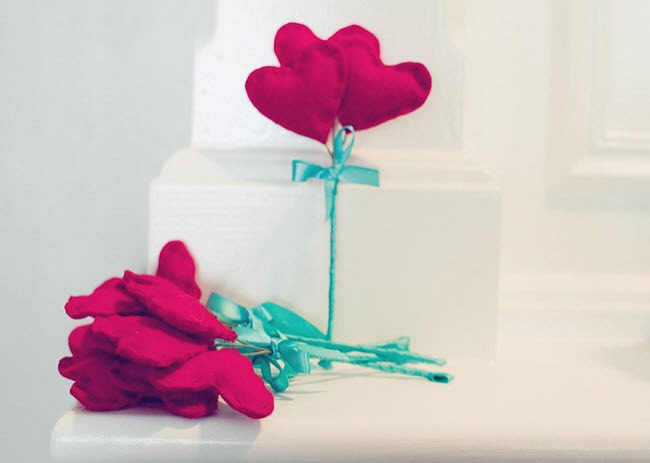 DIY Photography by La Belle Bride, Danielle's Wedding Photography by Nicole Fields