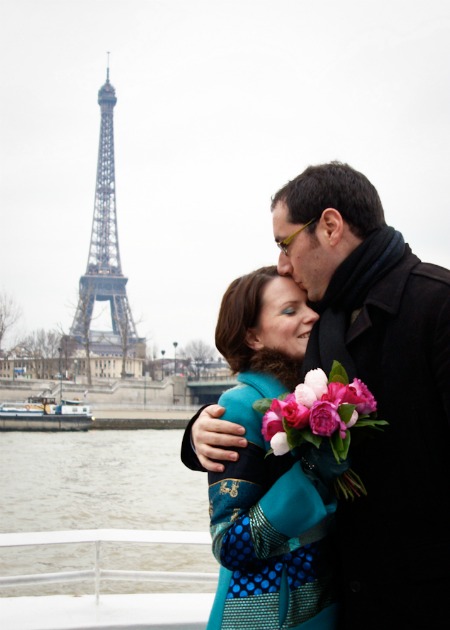 Very chic. Very elegant. Michelle and Mehdi's wedding in Paris had all the right touches.
I loved Michelle's striking turquoise wedding coat which created a bold splash of colour in a winter setting. Beautiful contrast with her pretty pink peony wedding bouquet.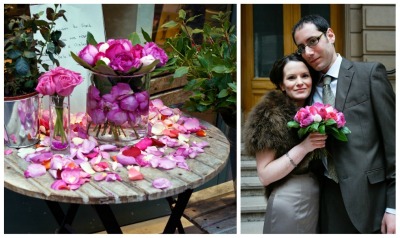 Loved Michelle's coffee satin dress which she accessorised perfectly with a chocolate coloured stole. You can find similar 'espresso' colour cocktail-style frocks and espresso coloured accessories at Dessy.
The couple's photographer Brideen Baxter used the Parisian sights to the max.
We have the classic romantic wedding photograph of the newly weds with the Eiffel Tower in the background - certainly an image to show the grandchildren. Also love the red carpeted stairway at their wedding venue - the Mairie du XVIIIme.
The bride and groom chose Au Petit Riche in Paris for their wedding reception. (Liked the way they used the Paris metro for travelling around - which created a great photograph here.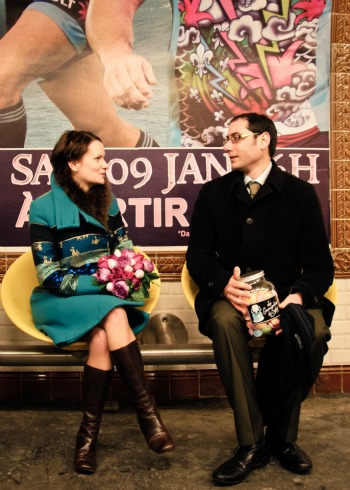 Marrying abroad isn't as complicated as you might think. Read our previous advice on holding your wedding in another country - and maybe think about romantic Paris as your wedding destination. A good company to contact for information is Marry Abroad.
You'll also find a variety of wedding packages in Paris on offer once you start researching.
With thanks to Michelle and Mehdi for sharing their wedding photographs and Brideen Baxter for the photography. (You can also find Brideen on her Facebook page - PhotographybyBrideen.)