Using Sunflowers To Decorate Your Wedding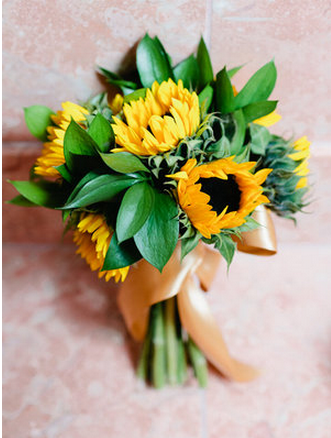 I just spotted this wedding full of sunflowers and it made me realize what a great flower they are to choose if you're planning a DIY wedding.
Sunflowers For A Wedding Are So Right

A classic in their own perfect way, sunflowers may not be as traditional as roses or other more usual wedding blooms, but they have a cheeky charm of their own and are extremely versatile.

If you're on a tight wedding budget, they are a perfect flower to choose because they really aren't difficult to arrange. You also don't need many, you're only buying one flower (which usually works out cheaper) and they are inexpensive flowers to buy.

Just put a few blooms together in large jam-jars on your wedding tables for a simple, homespun effect.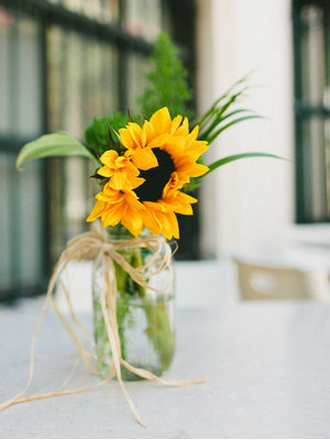 Tie a few sunflowers together with a contrasting ribbon to create a simple but dazzling bouquet for the bride and the bridesmaids.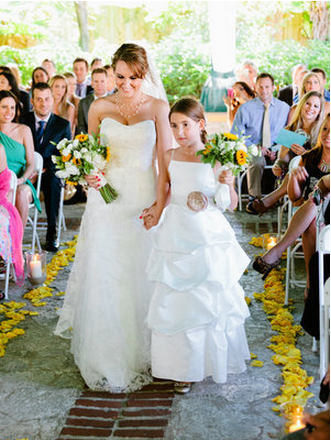 The bridegroom and his best man can get in on the sunflower act too by sporting small sunflowers in their lapels as buttonholes or boutonnieres. You can buy sunflowers very reasonably if you go to a flower market - somebody will just have to get up early in the morning for you so that you get the best blooms!
Sunflowers As Buttonholes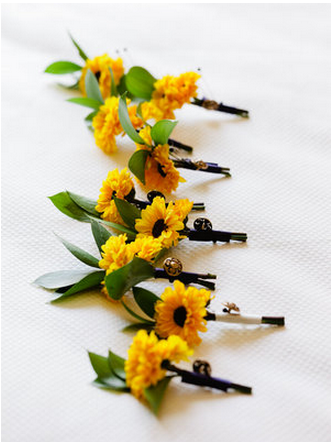 Of course, a sunflower theme is easy to carry through to the rest of your wedding accessories. Bright yellow works well in Spring, Autumn and Summer and you could pick dazzling sunny bridesmaid dresses for your flowergirls. Contrast the yellow of the sunflowers with navy or a bright green.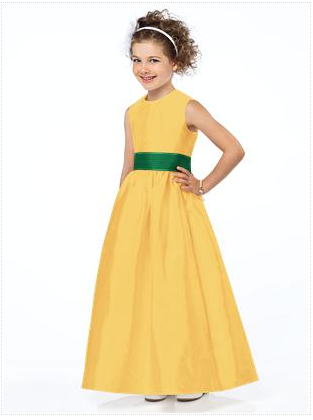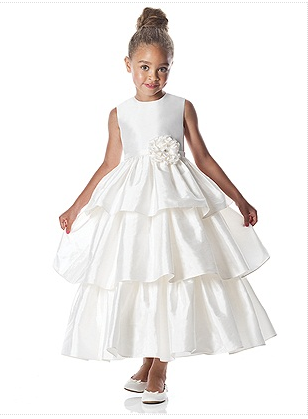 As for your wedding reception tables, you can scatter sunflowers on the surfaces of your tablecloths. Put single blooms in tealight holders... I also like the way this couple continued through the sunflowers theme to their wedding cake.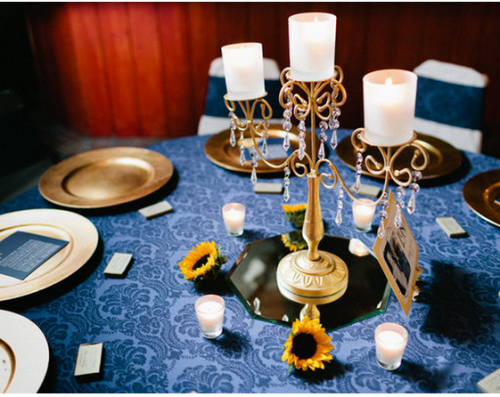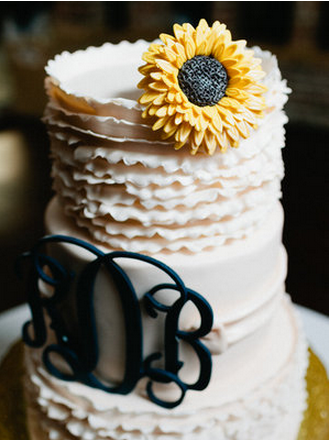 As I said, it's a great flower for a DIY wedding. Really easy to work with, inexpensive to buy and yet a wonderful decoration!

Photo credits: All images via Project Wedding (Robyn & Ben's wedding in Florida) except for flower girl dresses which are by Dessy.