Don't fancy formal? Serve delicious bowl food at your wedding ...
Some trends are just set to make a bride's life so much easier. And in my opinion, the increasing trend for bowl food is just one of them.
Why Bowl Food Is The Perfect Recipe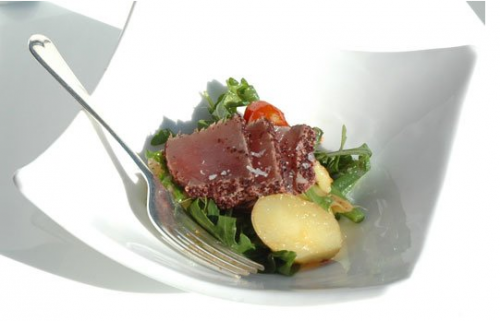 Just think about it - you're entertaining say, 150 guests and you're stressing over vegetarians, vegans, yeast intolerances, kids, costings ... In fact getting the menu right for your formal sit down dinner is starting to give you nightmares.
Enough already. Get thinking about bowl food.
You can still have seated tables - but your guests can browse along a buffet of a selection of bowl food - or have it handed around to them by attentive waiting staff. Or food stalls can be set up ...
What you serve is entirely up to you - to suit your tastes and budget.
You could have a bit of Asian fusion - noodles, sushi. Tagines. Salads. Or maybe go a bit more trad with mini fish and chips, mini burgers, mini roast beef and Yorkshire puddings.
Have a few soups to sip - a consommé maybe?
Here are some caterers with some great ideas on bowl food I've discovered .. Blue Strawberry, GingerJar, Bloomsbury Ballroom.
Says Terry Pullen of The Bloomsbury Ballroom , "Bowl food is a great option when you want to follow a theme... it also gets people chatting ..."
Browse through a few menus and start pondering what you'd like to offer ... then start talking to your caterers about options, budgets and ideas.
Photo credits: All images via Blue Strawberry except for mini cornets by Emilia Jane photography and apple tarts/macaroons via The Knot.