Planning A Spring Wedding? Here Are Some Fresh Ideas ...
Spring is all about new beginnings, new life ... and it's a beautiful season in which to get married.
If you're planning a Spring wedding just look around at what's happening in Nature to give you all the inspiration you'll need ...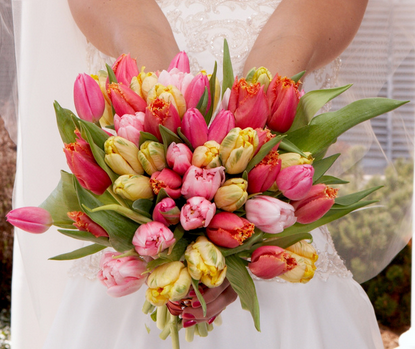 A classic Spring wedding bouquet for the bride by Fantasy Flowers
Springtime Weddings Are Just Bursting With Colour
Yellows, blues, pinks, oranges, fresh greens ... marry in Spring and your colour palette is all around you.

Firstly, let's think about your wedding flowers. It's always a good choice, more eco-friendly (and easier on your wedding budget) to choose blooms that are in season, and during Spring you've a wealth of scented, beautiful flowers and blossoms to create your wedding bouquet and decorate your venue.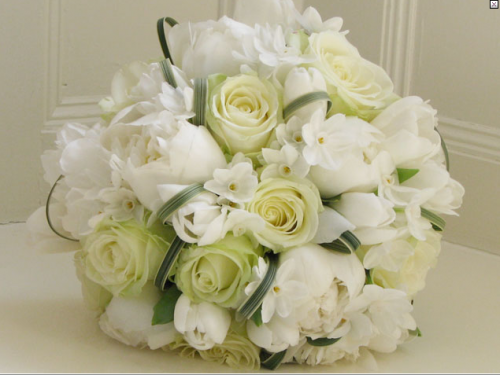 Classic white wedding bouquet for Spring by Emma Lappin
Springtime tulips are classic for bridal bouquets. I like this all-white bouquet from florist Emma Lappin, but you could go for yellows, deep reds or oranges. Talk to your florist about the options for tulips - you're going to have trouble deciding on the colours because there literally is so much choice.
You could also follow Kate Middleton's lead and have a Lily of the Valley wedding bouquet which is delicate, feminine, classic and gives off a beautiful fragrance. If you're a bride who'd like to avoid a large, bright bouquet then this could be a good option for you. (If it's good enough for Royalty ...)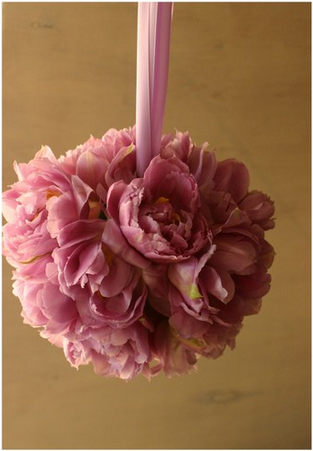 Pink peony pomander for bridesmaids by Sabine Darrell

As for your bridesmaid bouquets, I love this pink tulip pomander created by G Lily - how cute would that be for your young flowergirls?
Other Flowers For A Spring Wedding Day
Daisies, roses, peonies, hyacinths, daffodils and narcissi are all classic spring blooms. You'll have a wonderful time considering how to decorate your wedding tables.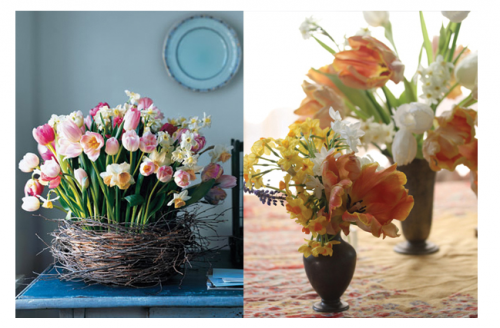 via Pretty in White Wedding Planning

Plant scented hyacinths in wicker baskets and place on the tables for a countryside look - or put the blooms in sleeker containers to add a chic edge. Daffodils and narcissi also work well.
Image by Elizabeth Anne Designs
If you're diy-ing your wedding, using planted bulbs is a great way to save money but still have fabulous looking wedding table decorations. (Remember you'll need to plan ahead and plant your bulbs in late autumn.)
Pot up a bulb in a terracotta container, add your guest's name and you'll be able to double up your table decorations as wedding favours. Alternatively, you could put packets of seeds by your guests' plates as a gift.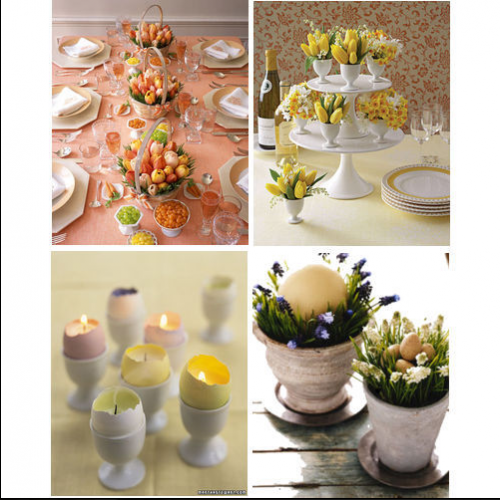 via Pretty in White Wedding Planning/Marry Me Productions
Colours For Bridesmaids For Spring Weddings
Echo your Spring wedding theme and draw inspiration from your wedding flowers by dressing your bridesmaids in complementary colours.
I'm not suggesting that you dress all your maids in the same shade of green or blue. Mix it up a bit. Put one girl in a hyacinth blue - another in a fresh green which brings to mind new leaves bursting through on the trees ... You can use daffodil yellow or a narcissi-inspired orange.
If you're going this route, it's best to let your maids choose a colour which suits them - and a style. Don't feel they all have to wear the same style of dress. Some will suit strapless styles - others may look better in a halter-neckline.
You'll find literally hundreds of styles of bridesmaid dresses at Dessy to browse through in literally hundreds of Spring colours. You'll also enjoy the new Dessy Spring Collection for 2013.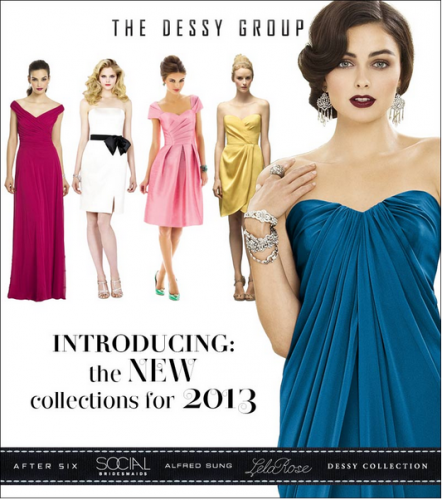 Take a look and start planning your Spring wedding. What colours do you think you're going to choose?
Photo credits: Main image via Before The Big Day, photograph by Hester Marriott. Other images via Pretty in White Wedding Planning blog, Elizabeth Anne Designs, Marry Me Productions, tulip bouquet by Fantasy Flowers.