How To Choose A Bridesmaid Dress That Flatters
Unless you've asked identical twins to be your bridesmaids, it's unlikely that all your ladies are going to be the same size, the same height, the same colouring and the same build.
It's much more likely that your bridesmaids are a mixture of tall and short, slim and curvy, blonde or dark.
So why should you feel you have to dress them all in exactly the same way?
We really rate the trend for mismatched bridesmaids. Okay, if you want uniformity, you can dress your maids all in the same colour. But there's nothing to say that the necklines have to be the same. Somebody slender would suit a classic shift - someone with a larger bust would look great in a scoop neckline. It's the classic thing - accentuate the good points and hide the not so good.
Your bridesmaids trust you to make them look great on your wedding day and don't you owe them that?
If you don't want a uniform blue or know that one girl would look great in a light blue and another in navy, then opt for an 'ombre' effect where you have a cascade of shades drawn from the same colour - like a sort of one colour rainbow.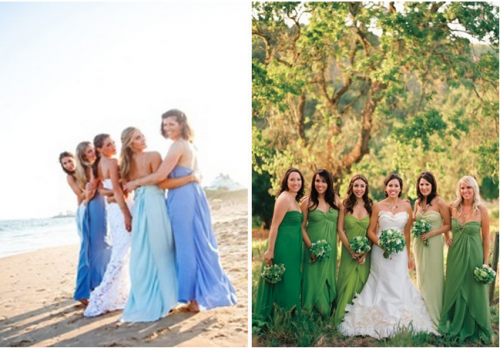 As for bridesmaid dress lengths - well, go for cocktail length, tea-length or a more formal full length. You could even have a mixture of all three. If one girl doesn't particularly like her legs, let her choose something longer or if someone is proud of their pins let them flash them in a shorter style.
If your girls feel they look good then they'll be relaxed and happy which will create a wonderful atmosphere on your wedding day. It will also make for far better-looking wedding photographs.
What's The Best Neckline To Choose?
Look at Dessy bridesmaid frocks and you'll see a variety of necklines on offer, which means that there's one to suit each of your maids.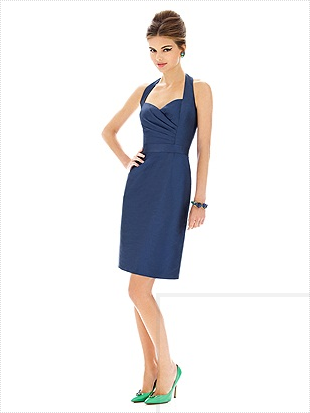 Halter necklines are a good choice for girls with a small bust and neat arms and shoulders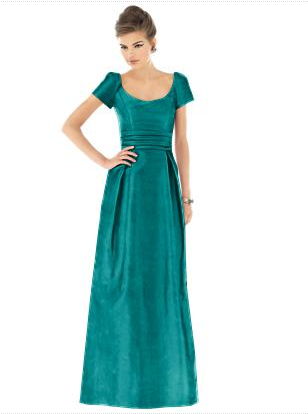 Scoop necklines look fabulous on somebody with a fuller bosom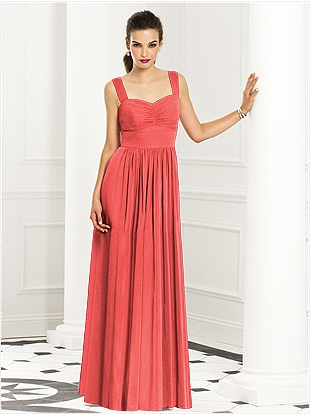 A sweetheart neckline suits all shapes, giving support and also the impression of a larger bust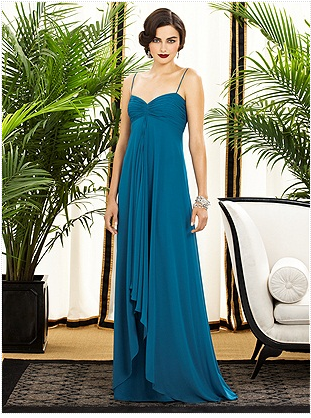 Spaghetti strap dresses look dainty on slight figures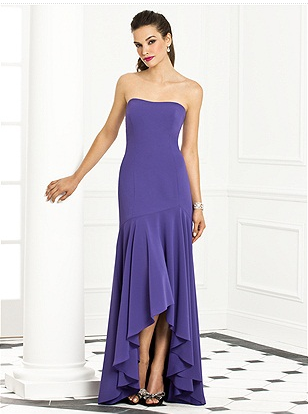 Strapless dresses work on girls with a medium bust but the rule is don't keep pulling up your dress every two minutes. It's designed to stay in place (and not embarass you) so trust it to do the necessary work.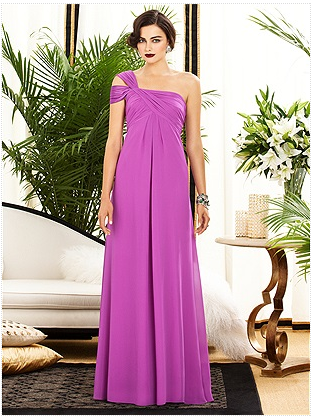 Off the shoulder style is elegant but to be avoided if a girl's arms are heavy
A cowl neckline is good for pear shapes and flatters a small bustline, as does a boat neckline
The finishing touch is wearing the right sort of underwear as a bridesmaid - nude colours don't show up in flash photography but white lingerie will. Boy shorts help to avoid VPLs (visible panty lines) and one-piece shapewear will give a smooth line underneath a dress. It's always good to try on potential dresses wearing the right underwear. Even more so when getting fitted for alterations!
Featured image via I Do Too. Ombre bridesmaid dresses photograph via Gorgeous Maui Weddings. All other bridesmaid dresses featured from Dessy.