Why We're Loving Instagram
You've probably heard of Instagram - a mobile app that lets you snap images and then post them to your Instagram page to share with your friends and followers.

In addition, you can also follow other Instagrammers you find intriguing and search through hashtags of photos in which you're particularly interested.

We think it's a great source of wedding inspiration for your big day and in fact we've got some great images of Dessy Real Weddings via Instagram. Brides, photographers, bridesmaids - in fact anybody who'd been at a wedding with Dessy dresses hashtagged the images #DessyRealWeddings and sent them along to us.

You can see the results on our Dessy Real Weddings Pinterest board which shows real girls in Dessy dresses (and the weddings are pretty as a picture). And if you want to join in the fun, post your own Dessy Real Weddings image here. And make sure you follow DessyGroup on Instagram too.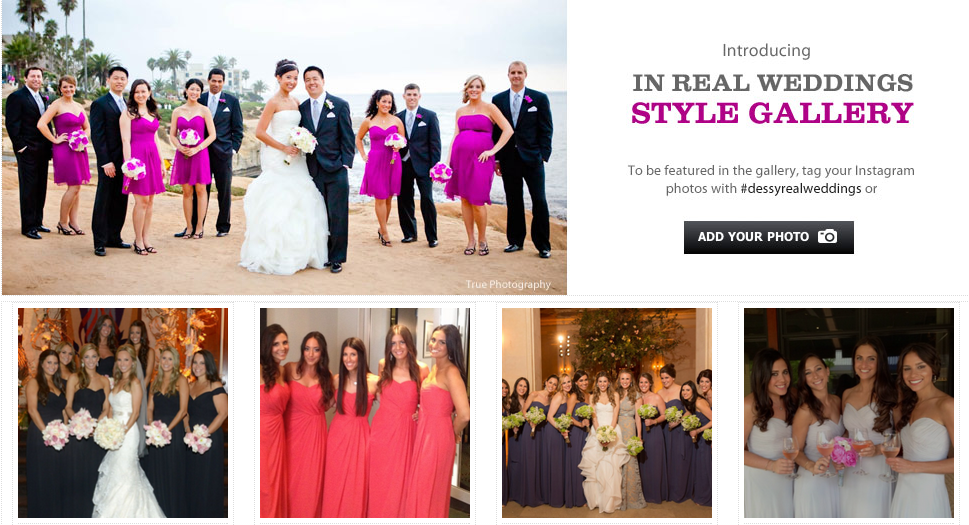 Dessy apart, there's other Instagrammers we think you'd find really useful to follow in preparation for your wedding day. We'd recommend you take a look at:
WeddingIdeas Wedding Ideas magazine has a great Instagram page. Follow the #weddingideas hashtag and you'll find all sorts of real life inspiration for your big day.
WeddingChicks Everything from wedding dresses, stationery, cakes. There's something about real life photos that really gets a girl thinking about how to plan her day.
SandalsResorts If you're thinking about having a beach or destination wedding, then this might convince you!
TheKnot Well, everything to do with weddings really.
EmmaLappin A florist. Beautiful, stunning flowers.
Planning your wedding day so it's unique and special to you is all about having the right sort of inspiration. Take a look at DessyGroup on Instagram now and see what we've posted and don't forget to post your own Dessy Real Wedding here.