Finding the Right Wedding Dress For your Body Type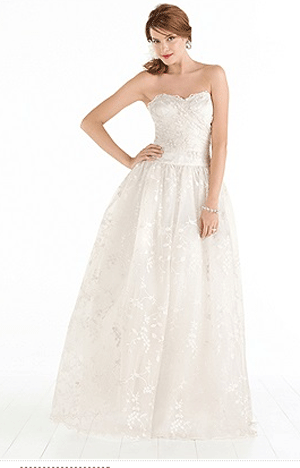 Finding any dress that fits your body type can be difficult to begin with, now add the fact that it is your wedding dress, the real challenge begins. Where do you start? When you have an idea in mind about the dress you want for your wedding day, make sure you keep in mind that your potential dress is flattering to your body type.
While I have never really thought of my own body type with relation to my future wedding dress, I have a specific style in mind, but I am sure like many other brides out there, I will go completely opposite direction then what I am thinking.
This is a strapless princess lace bridal gown with draped wrap bodice and sweetheart neckline. Full shirred ballgown skirt.
For the Busty Bride:
Find a dress that has a scooped neckline won't show too much cleavage. If you choose to go with a strapless dress choose one that has a slight dip in the neckline. Don't go for the straight neckline if you are a busty bride.
For the Small Chested Bride:
Look for a dress that has a bodice with extra fabric on the top. This will fill out the upper portion of your body and create a balance with the rest of your curves.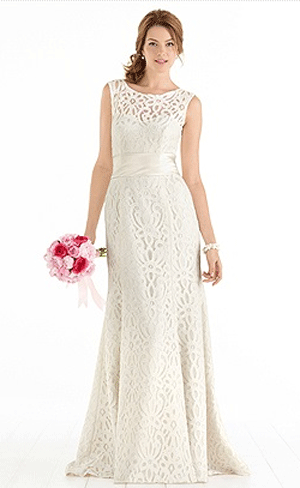 This is a sleeveless modern lace dress with wide matching matte satin sash, flared skirt and sweep train.
For the Pear-shaped Bride:
A dress that flares out in an A-formation is a flattering option for this body type. It will highlight your midsection, it won't draw attention to your hips and thighs. A spaghetti strapped bodice or V- neckline will showcase an upper body.
For the Plus-Sized Bride:
You will want to look for a dress that has an empire waistline. The skirt of the dress should start just under the bust and flow into a gradual floor-length A-line. The empire waistline should not start at the chest and there should be no pleating in the fabric. The dress should flatter your figure.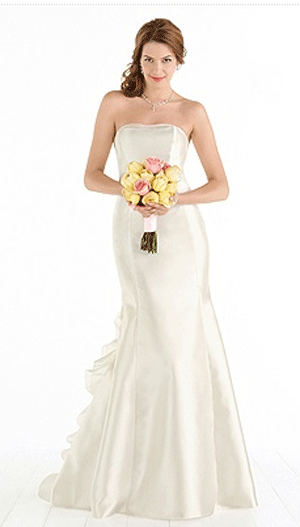 This is a strapless peau de soie dress with princess line bodice and full flare skirt. Hand worked flower detail at skirt. Sweep train.
For the Apple Shaped Bride:
Find a dress that has a lower neckline that will draw the attention in the upper body area. Necklines that are V-neck or sweetheart are two perfect options. A dress that will snap in the smallest point on the waistline and flare out into an A shape is a good choice. Choose a dress with a heavily textured bodice. A fabric like lace works well here, it will give fit you tightly and give you a corset-like effect.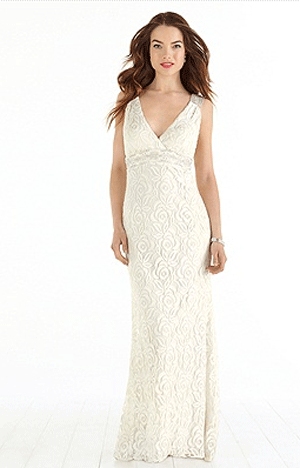 This is a full-length guipure lace bridal gown with hand beaded inset waistband and straps. Slight train at back.
For the Tall Bride:
Find a dress that will emphasize your natural figure with every aspect of the gown. Choose a dress with a lower waistline and a hemline that is floor sweeping. A dress that reflects your longer proportions is a good choice.
For the Petite Bride:
You will want a trumpet covering with a modified A-line gown if you have a petite figure. Find a style with a waistline that is above the natural waistline to make the lower half of the dress appear longer.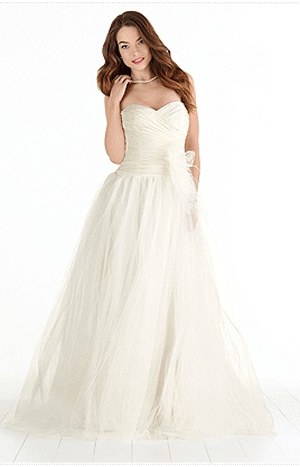 This is a strapless dress with draped lux chiffon bodice and full tulle ballerina skirt. Feather flower detail at natural waist.
A friend of mine told me when she was looking for a dress, she said she thought it was going to be an easy task, but she found that many of the dresses were for tall women and it was difficult to remotely get an idea of what you would like in a dress that actually fit.
After the wedding is over, you will want to be happy with the choice you made with your gown. This is the one day you get to look like a princess, so choose wisely!