To the Bride and Groom! How to Give a Wedding Toast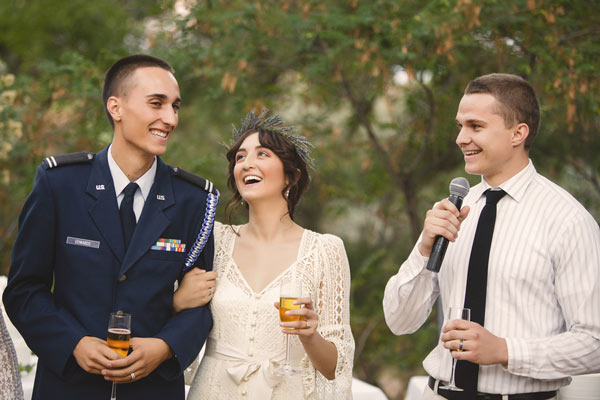 Beautiful memorable words for a wedding toast only promise moments that look like this. Photo by Tony Gambino Photography.

When giving a wedding toast to the newly married couple at the wedding there isn't a formula about what should and shouldn't be said, but there are a few things to keep in mind before you stand up in front of possibly 100+ people.

First, who gives the toast anyway? Well, in traditional cases, it is usually the maid/matron of honor and best man. In some cases it can be any important family member or friend. It is up to the bride and groom on who they want to stand up in front of their guests and toast them. I don't recommend opening the floor to just anyone and everyone at your wedding.

How long should it be? No more than five minutes. Anything longer than that, the person will lose everyone's attention even the bride and groom.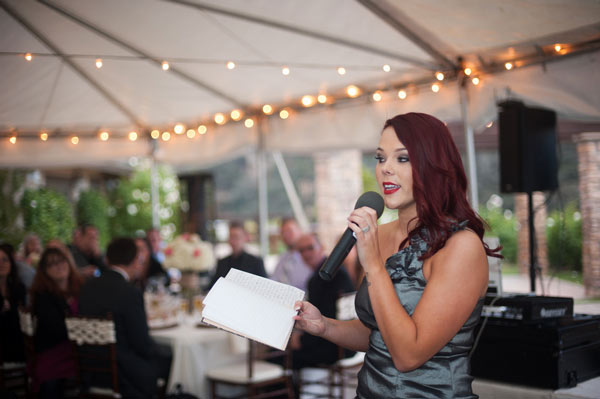 If you don't want to write your entire toast down, just have some of the highlights to get you through. And don't forget deep breaths! Photo by David and Tania Photography.

Writing the toast before the wedding on index cards and practice it to see how it sounds when read aloud. Don't opt for an impromptu toast unless you are quick on your feet, these types of speeches usually spell disaster in some way or another.

Don't give this speech drunk nor should you mention every embarrassing moment between yourself and bride or groom. Remember there will be parents, grandparents and elderly guests at the wedding. Be respectful.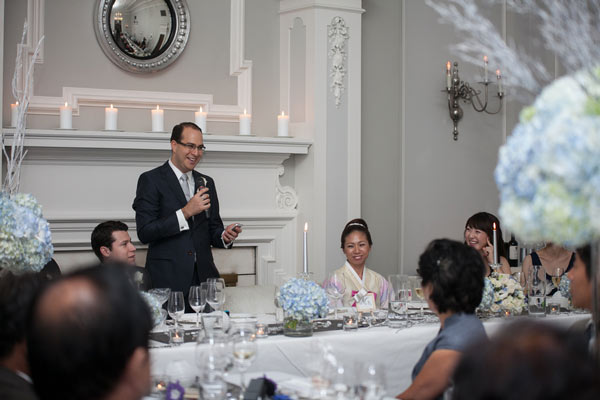 Often, the groom will give a speech too thanking guests or expressing his love for his new bride. Photo by Paris Lenahan Photography.

When giving the toast, share some memories, some funny (appropriate) jokes, what you think about when thinking about the couple, what you have heard about the couple, talk about the bride and groom and what you love about their union.

You can also find great ideas on the internet if you are at a loss for words. If you feel you aren't the right person for the job, let the bride and groom know that and explain your reasons. Not everyone is good at speaking in front of crowds or good at expressing how they feel especially in front of a large crowd.

If your a newly engaged bride and have begun looking for bridesmaid dresses, check out all the new Spring Bridesmaid Dresses on Dessy!