How Not to Annoy Your Un-Engaged Friends with Your Engagement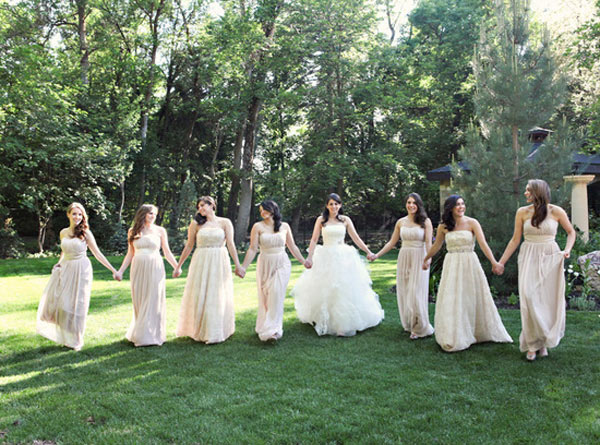 Real bridesmaids in Dessy collection bridesmaid dresses. Photo by Jacque Lynn and featured on Lily&Iris.com
You are engaged! And that's wonderful, you have found the person you plan to spend the rest of your life with and while you are ready to begin planning the wedding, enjoying this time in your life, you will want to remember there are still some of your friends and family who have yet to find Mr. Right.

While we certainly don't mean to rain on your engagement and wedding parade by any means, it is important to be aware that during your engagement there are other things going on for other people.

Here are some ways you can avoid annoying your non-engaged friends and family with your engagement:

1. Don't over extend how much you expect people in your life to be involved in your wedding planning. This even goes for the bridesmaids, because even though your girls have agreed to share your special day with you - they do have other commitments and lives outside your wedding. Ask everyone involved how involved they can or want to be (now this may be hard, because honestly, how would you tell a bride you can offer little involvement in her wedding), but have the people in your life be honest about their level of commitment, you will avoid any unnecessary headaches later.

2. Stop posting your ring on social media! Sure, it's totally fine to post immediately after you have said, "Yes" (because let's be honest, your friends and family want to know how big it is, what it looks like, etc.) " but your friends on social media don't need to see photo after photo of your ring constantly. Don't by any means not share your glory with others, but be aware that after a while people know your engaged.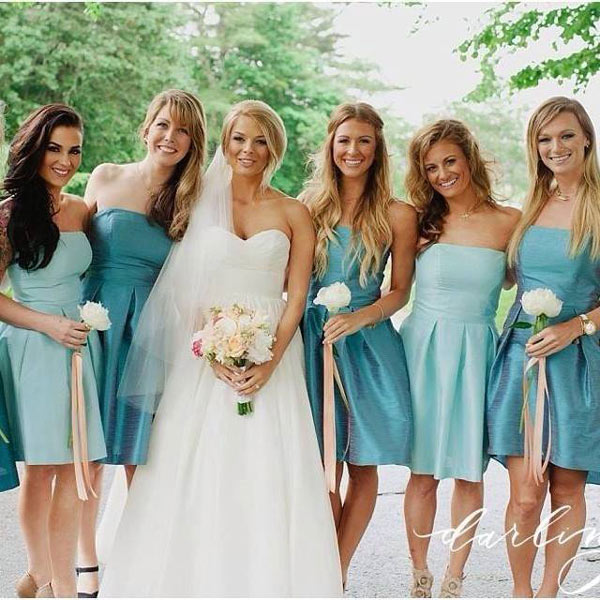 Alfred Sung Bridals and The Dessy Group bridesmaids in this beautiful blue palette! Just in time for spring!
3. Once the excitement of being engaged has gone down a bit, try and go back to some normal routines, obviously it's not going to be completely normal since now you are planning a wedding, but try to bring some normalcy back. This will prevent you from talking about your wedding non-stop to people who have already heard it and it will also help you remain calm throughout the planning process.

4. Ask your friends and family how they are doing, this will show them that your wedding isn't the only thing you consider to be important in your life. Plan a girls night out with your girlfriends and just enjoy their company without talking about your wedding... (unless someone asks of course!) even then, keep others in mind.

5. As you begin planning your wedding and you have asked your bridesmaids, one way to avoid annoying anyone is by understanding that not everyone is made of money. So while you have a vision in your head about how you expect your wedding to look, just understand that people (even the single people in your life) do have other financial obligations and possibly other weddings they are apart of.

Are you looking for a great bridesmaid gift for your bridesmaids? Why not consider the Freshwater Pearl Cluster Bracelet by Dessy?