Why We Love I'm a Mrs. Name Changing Service!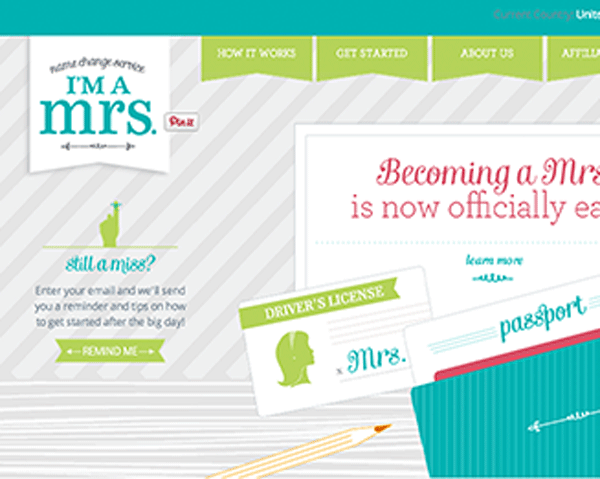 With so many aspects to wedding planning, it's so easy for the bride-to-be to forget the little (and big details too!) like name changing on important government documents etc. For some it can be a real hassle, that many brides wait until after all the wedding hoopla is over and the dust has settled.

So why not make this process easy for her? The I'm a Mrs name change service takes care of it all, all the bride-to-be has to do fill out the appropriate contact information, any organizations she affiliated with, download the proper forms, print and email the file. And she's done!

We love it because it makes the life of the bride so much easier and easy is always good when you're planning anything, whether it's a wedding or any formal event. So why not?
The impetus for I'm a Mrs name change service was the result of trying to find the perfect bridal shower gift and to stop the groaning from newly married friends that spent hours going through the name change process, according to the company's web site. It is a gift that is actually something a new bride-to-be can use, according to the company's web site.
The company launched in 2008 and is available in the United States, Canada, Australia, South Africa and the United Kingdom. It makes it easy for a bride-to-be to change your name. The company boasts that the process is easy and straightforward since they are experts in marriage name change.

There are two packages available. The first package known as the "Premium Package" includes government, financial, loyalty cards, alumni associations, magazine subscriptions. The second is the "Give a Gift" package, which allows you to give a gift card for the bride-to-be on your list that will help ease any additional stress in her wedding planning. Both packages are $30.

If you are a bridesmaid or simply a guest at an upcoming bridal shower, this makes the perfect gift for the bride-to-be. We would recommend however, that you find out in advance whether she has started the name change process, so you aren't making it any more of a hassle.

Have a bridesmaid in your wedding who is also getting married this year? Aside from getting her a gift card to I'm a Mrs. check out all the neat accessories at Dessy.com!

For more information, visit www.imamrs.com!