What Not to Worry About During Your Engagement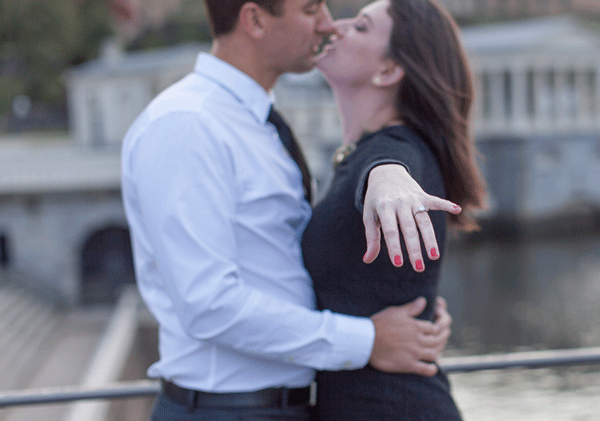 Photo by Chuck Adams Photography
You're engaged! You have finally found the person with whom you plan to spend the rest of your life with, so now begins the joy (and, yes we mean joy) of planning your wedding. The last thing you need is to worry about things that are just not necessary during the time of your engagement.

Here are some things that are definitely not worth worrying about:

1. Whether your friends and family will like your engagement ring. Honestly, this is your ring and you are the only person who has to love it. Don't stress about whether it's on par with your best friend or your sister's engagement ring. It is not about the ring, it is about what the ring symbolizes. Remember that whenever someone (and there will be people) makes a comment about it.

2. Whether or not to have an engagement party immediately. You can have your engagement party anytime leading up to your wedding, and if you are a couple trying to stay within a budget, don't feel like you need to have a blown out extravaganza to celebrate. Do what works for the both of you.

3. Feeling compelled to set a wedding date immediately following the proposal. If you want to get married during a certain time of year, or you really want to plan the wedding to be exactly how you dream, don't worry about rushing to set a date.

4. If your nails are always done, sure it's nice to have them done when you first get the ring, but don't go crazy making sure to always have a fresh manicure.

5. Don't stress over the demands your family and his will make of your wedding. This is everything from who is on the guest list, who is paying for what, where it will be located... this list could go on. Remain calm and keep in mind that this is again your wedding.

6. Who to pick as your maid/matron of honor. This isn't a choice that calls for a lot of stress and worry, and you will know who should be your maid/matron of honor.

7. How many bridesmaids to have in your wedding party. If you want a small wedding party, but have a lot of female relatives, keep it simple to include those you are closest to. Don't pick anyone because you feel you have to or because they are a good planner, sure the planner bridesmaid is an awesome bridesmaid to have, but make sure you are picking your girls for the right reasons.

8. The type of engagement photos you should have. So often we see traditional engagement photos where couples take pictures on a beach, in a park or in an open field, if neither of these engagement photos are you as a couple, pick locations that speak to who you two are as a couple.

9. Whether it will rain on your wedding. You can't control the weather, if it's going to rain, it's going to rain, just be proactive about it ahead of time, should you be planning an outdoor wedding.

10. Bridesmaid drama. You will have it, it is inevitable. Especially when it comes to bridesmaid dresses. Just handle whatever is thrown at you with grace and patience and everything will work out for the best.

If you do find yourself stressing over the little things, find some time to yourself and do some non-wedding, non-engagement things. Spend a few hours to yourself. A bubble bath maybe? Or a relaxing massage at the spa? Anything you find relaxing. Do it!

Stressing over the color scheme of your wedding? Don't worry we have that covered! Check out out Pantone Wedding page on Dessy.com!

Happy Engagement!