Will you be my bridesmaid gifts
Decided on which fab girls in your life are going to be your bridesmaids? How about a surprise Will you be my Bridesmaid? gift to make it even more special?
Planning the wedding can be a little stressful so make the most of the really fun parts like choosing your bridesmaids. There are a whole host of Will you be my Bridesmaid gifts out there so I've selected a few, modest ideas that won't break the bank but will just add a little more excitement to the whole thing.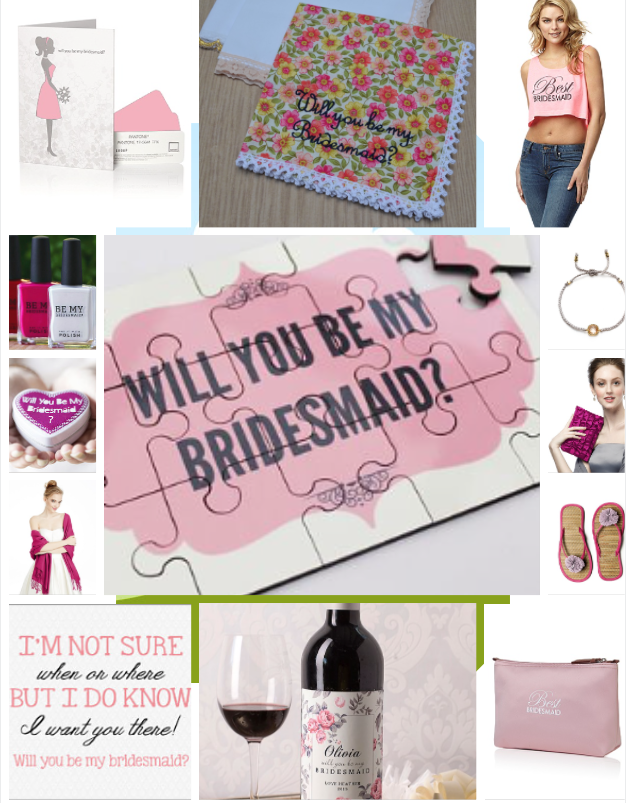 Clockwise from top left: Will you be my Bridesmaid? stationery from Dessy.com, £4; handmade, personalised handkerchiefs from The Handkerchief Shop, price on application; Best Bridesmaid crop top; Friendship bracelet with stone detail; silk ruffle clutch bag, shown here in Cerise; satin-trimmed flip-flops; Best Bridesmaid satin make-up bag, in 16 colours; Personalised wine labels from GettingPersonal.co.uk; humorous Will you be my Bridesmaid cards from Zazzle; silk and wool pashminas from Dessy.com available in 35 colours; Will you be my Bridesmaid scented candle in tin from Hearth and Heritage; personalised nail varnish from Say it with Polish. Centre: personalised jigsaw puzzle from Lou Brown,.
Many of the Will you be my Bridesmaid? presents come in a range of colours and/or can be personalised, so you can really show your appreciation. Depending on how far down the wedding colour theme you are, you could choose the gift so that it will match the colour of the bridesmaid dress you would like them to wear. You don't have to have chosen the actually style, but it might be fun to give a hint about the hue.
I'd love to hear how you popped the question to your bridesmaids so feel free to share your ideas below. Have fun!