Non religious wedding readings that will melt your heart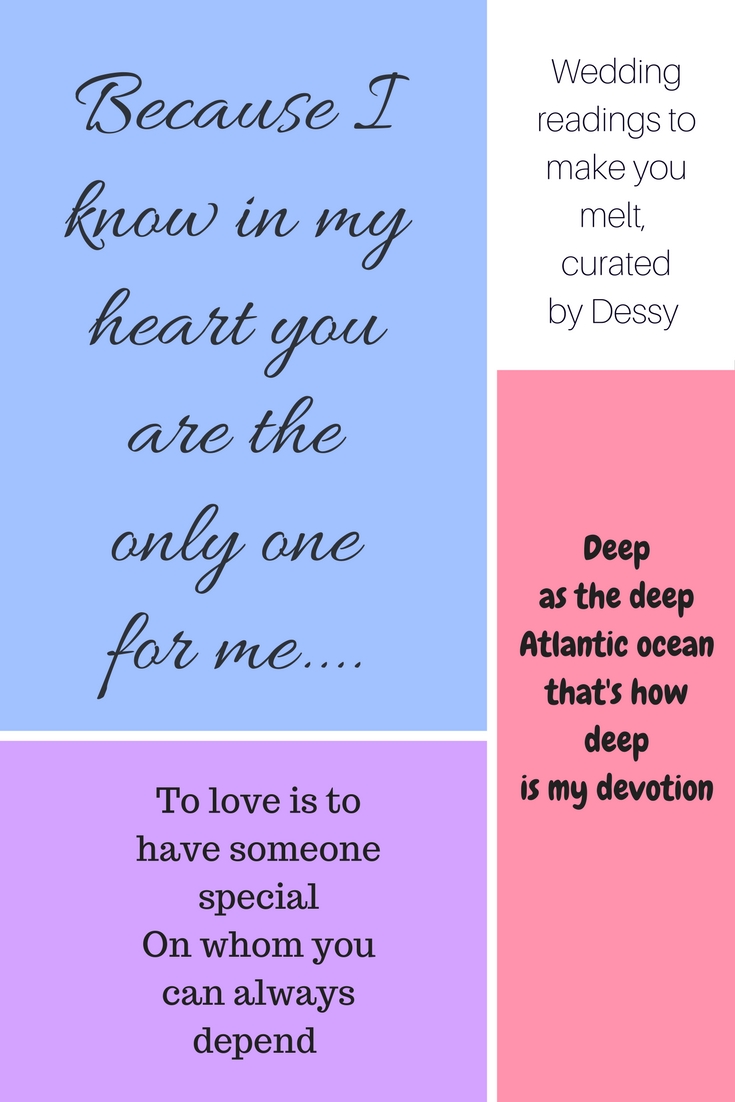 If you're having a non-religious wedding - that is, if you're tying the knot in a register office, at a country house hotel, in a barn, outside in a vineyard or even on board ship - it's important to remember that you will need to choose non-religious readings (as anything religious isn't permitted at a civil ceremony marriage).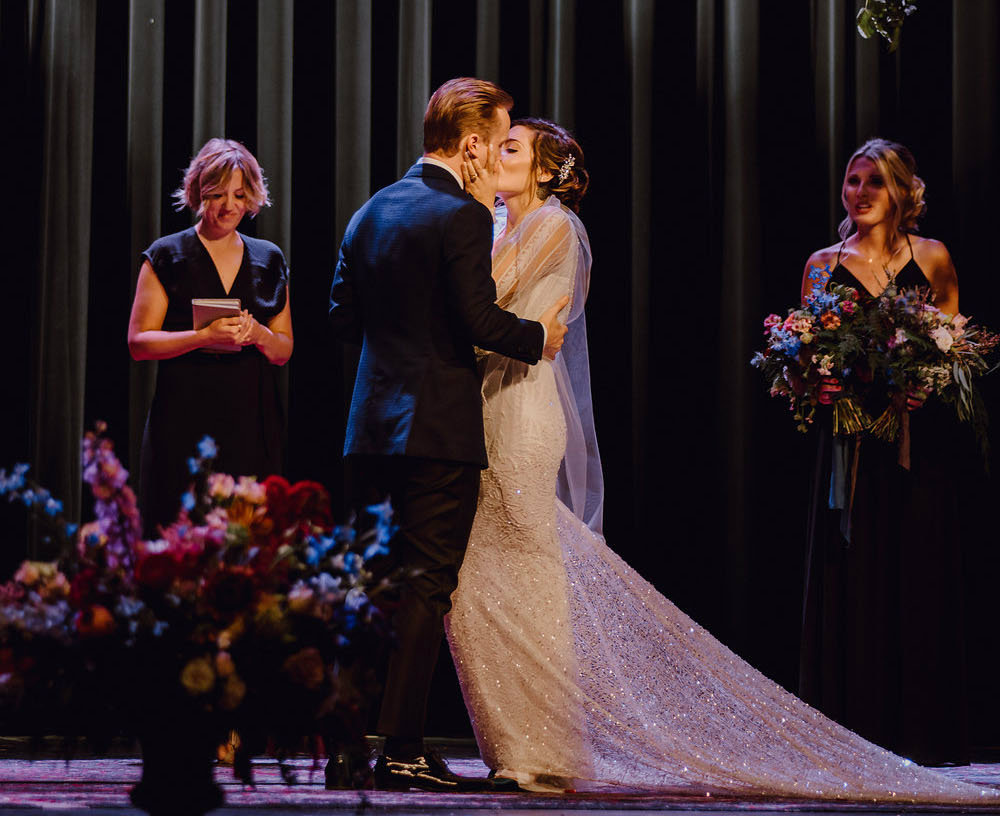 (Photo by Megan Saul Photography via Green Wedding Shoes)
Plenty of choice for wedding readings
The good news is that there are absolutely masses of poems, excerpts from films and books to choose from and there's certainly to be one or two that have just the words you want to say to one another.
Who will be best at reading aloud?
Think carefully about who you ask to give your readings - you need somebody who is used to public speaking - who won't become tongue-tied and shy when they're confronted by a room full of expectant faces. So although your young niece or nephew is very cute - make sure that they're up to the job beforehand and have lots of practice!

Also remember to read out the title of the piece and where it's from.
A classical love poem
First off, we have a classical piece by the Elizabeth courtier Sir Philip Sidney who lived from 1554 to 1586. He was a favourite of Queen Elizabeth I and wrote the following love poem below which says everything.

My true-love hath my heart, and I have his,
By just exchange one for the other given:
I hold his dear, and mine he cannot miss;
There never was a bargain better driven.
His heart in me keeps me and him in one,
My heart in him his thoughts and senses guides;
He loves my heart for once it was his own;
I cherish his because in me it bides.
His heart his wound received from my sight;
My heart was wounded with his wounded heart;
For as from me on him his hurt did light,
So still methought in me his hurt did smart:
Both equal hurt, in this change sought our bliss,
My true love hath my heart and I have his.
And something a little more modern
You could also use the words Julia Roberts' character speaks in 'The Runaway Bride' when she talks about the life she and her loved one would have together.

I guarantee that we'll have tough times. And I guarantee that at some point, one or both of us will want to get out. But I also guarantee that if I don't ask you to be mine, I'll regret it for the rest of my life. Because I know in my heart you are the only one for me.


Or to raise a smile
John Cooper Clarke is a punk poet and this poem he wrote about 30 years ago has certainly stood the test of time - and it's certain to raise a laugh (in the right way).

I wanna be your vacuum cleaner
breathing in your dust
I wanna be your Ford Cortina
I will never rust
If you like your coffee hot
let me be your coffee pot
You call the shots
I wanna be yours

I wanna be your raincoat
for those frequent rainy days
I wanna be your dreamboat
when you want to sail away
Let me be your teddy bear
take me with you anywhere
I don't care
I wanna be yours

I wanna be your electric meter
I will not run out
I wanna be the electric heater
you'll get cold without
I wanna be your setting lotion
hold your hair in deep devotion
Deep as the deep Atlantic ocean
that's how deep is my devotion
A passage from "The Alchemist" by Paulo Coelho
When he looked into her eyes, he learned the most important part of the language that all the world spoke — the language that everyone on earth was capable of understanding in their heart. It was love.
Something older than humanity, more ancient than the desert. What the boy felt at that moment was that he was in the presence of the only woman in his life, and that, with no need for words, she recognized the same thing. Because when you know the language, it's easy to understand that someone in the world awaits you, whether it's in the middle of the desert or in some great city.
And when two such people encounter each other, the past and the future become unimportant. There is only that moment, and the incredible certainty that everything under the sun has been written by one hand only. It is the hand that evokes love, and creates a twin soul for every person in the world. Without such love, one's dreams would have no meaning.
Or what about a bit of Hemingway?
"Maybe...you'll fall in love with me all over again."
"Hell," I said, "I love you enough now. What do you want to do? Ruin me?"
"Yes. I want to ruin you."
"Good," I said. "That's what I want too."
― Ernest Hemingway, A Farewell to Arms
Finally, here's a reading that says what marriage is - beautifully
A Wedding Message (Amanda Bradley)

To love is to share life together.
To build special plans just for two.
To work side by side,
And then smile with pride
As, one by one, dreams all come true.

To love is to help and encourage
With smiles and sincere words of praise.
To take time to share.
To listen and care
In tender, affectionate ways.

To love is to have someone special
On whom you can always depend
To be there through the years,
Sharing laughter and tears
As a partner, a lover, a friend.

To love is to make special memories
Of moments you love to recall.
Of all the good things
That married life brings,
Love is the greatest of all.

What readings are you planning for your wedding day? Have you any that you could share with us?