Ideas for a white wedding theme with black accents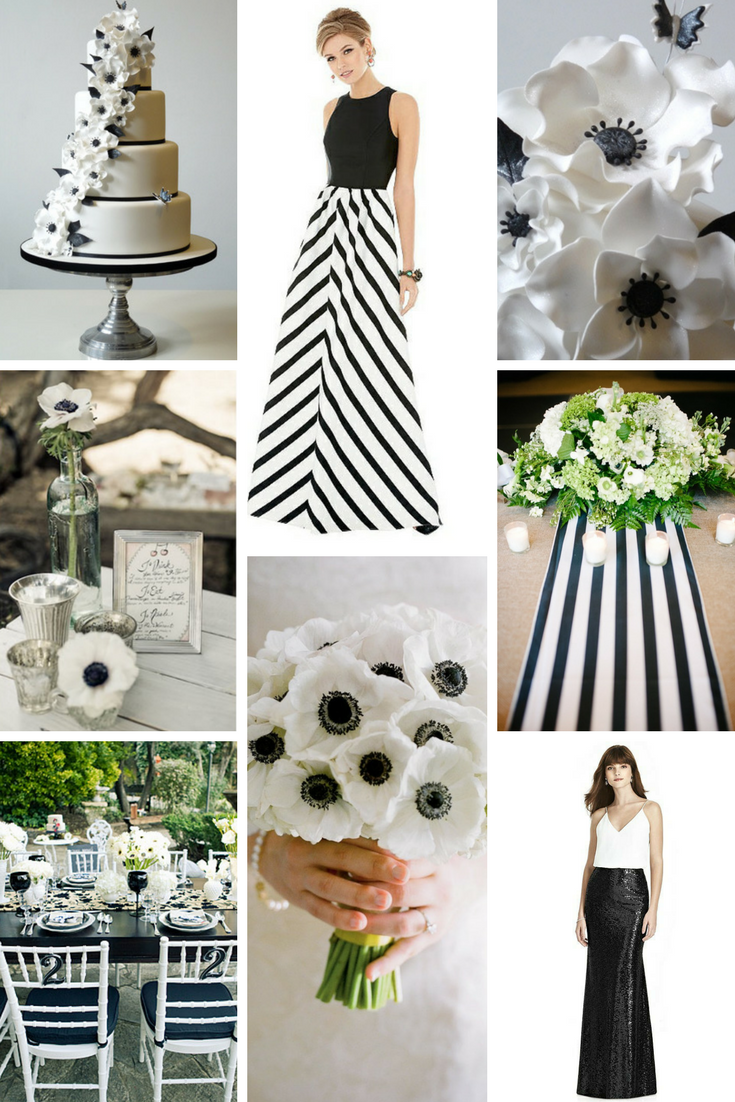 Wedding trends are something that we here at Dessy keep a key eye on and one that looks as though it's going to be big in 2018 and 2019 is a white wedding with black accents.
It's a stylish way of adding a classic individuality to your big day.
How to get white with black accents right
Think about how you're going to dress your bridesmaids. You can go for separates - a white top with a slinky black metallic skirt. Or classic stripes. Or a white bridesmaid dress with a black belt or shoulder detail
Opt for classic wedding invitations. White card with black calligraphy. What could be easier?
On your tables, go for white chairs with black cushions. Or if you're having a DIY wedding, you could have a black table runner with white flower arrangements
White anenomes are the perfect flower for this wedding theme. Why? Because they naturally come with black centers. Easy!
Tie a white wedding bouquet with a striped black ribbon
Use black charger plates underneath white plates on your table settings
Metallic accents - like silver or gold - also go well with this wedding theme
Don't forget your wedding tables. A white wedding cake will never go out of style - but have it decorated with a black or black and white striped ribbon. Have a cascade of black flowers falling down the tiers. On the table itself, make a nod to the metallic trend going on and get your caterer to cover it with a black sequinned tablecloth.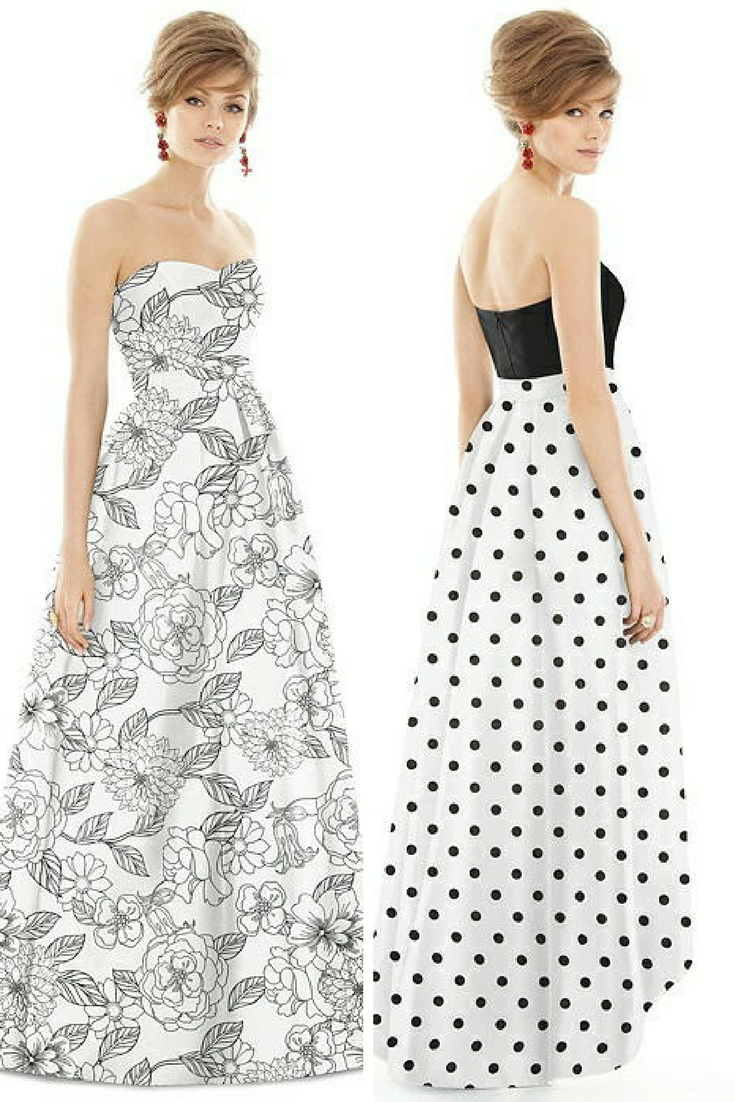 Florals and polka dots are other ways of embracing this theme if you don't want to go for block black colors. From left: Alfred Sung Style D755FP, Alfred Sung Style D699CP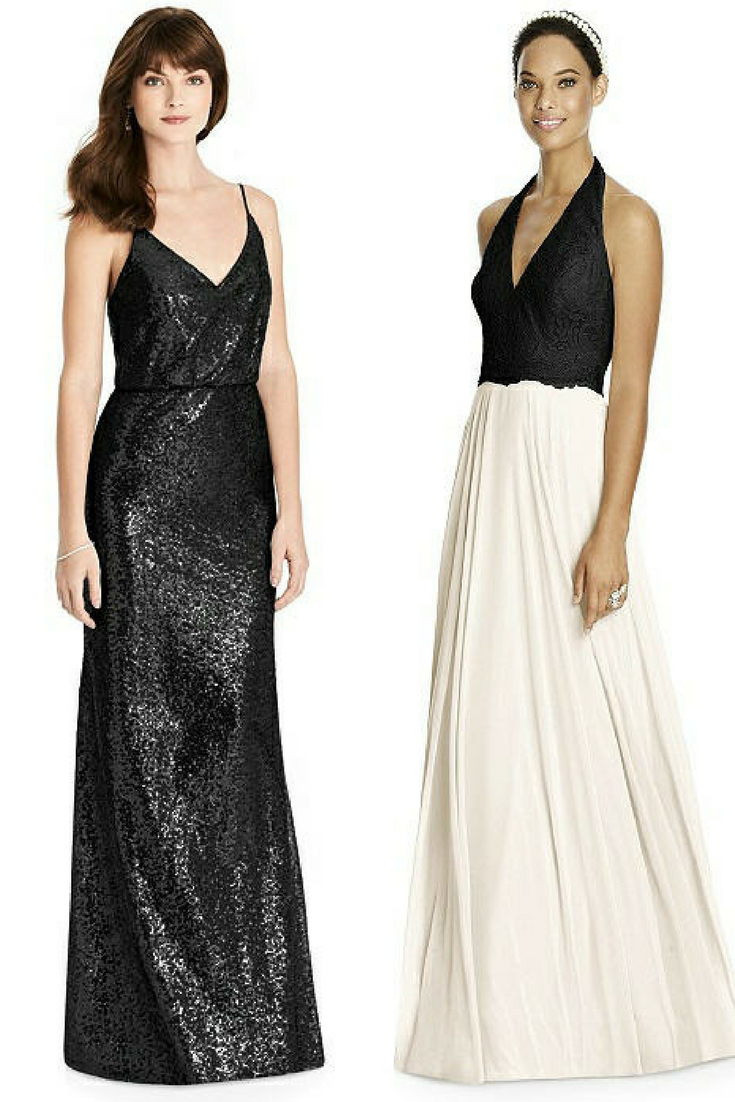 Add a bit of glamor. Sequins and metallics are having a real moment right now and this dress by Dessy on the left hits all the right notes. From left: After Six Bridesmaids Style 6784, Studio Design Collection 4512 Full Length Halter Top Bridesmaid Dress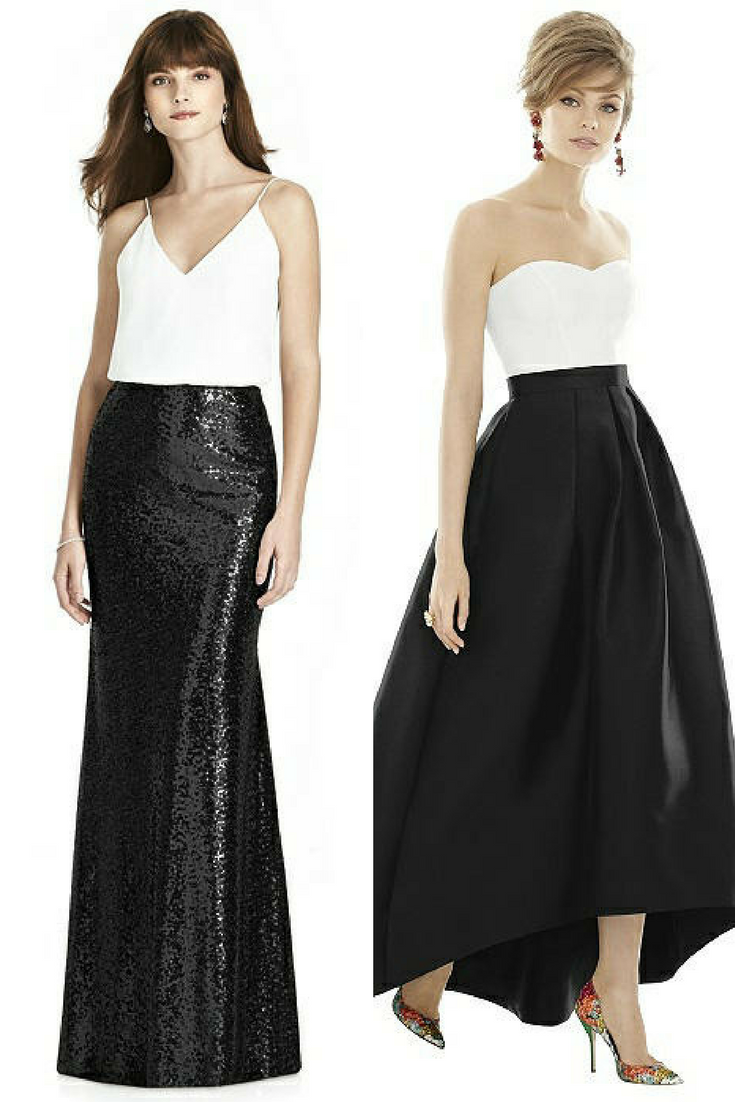 Think about separates. From left: After Six Bridesmaid style S1509, Alfred Sung Style D699,
Main image credits clockwise from top left: Rachelle's Beautiful Bespoke CakesRachelle's Beautiful Bespoke Cakes, Dessy Alfred Sung Style D707P, Rachelle's Beautiful Bespoke Cakes, Wedding Chicks, Pinterest, Wedding Chicks, Pinterest.