Red Accessories For A Winter Wedding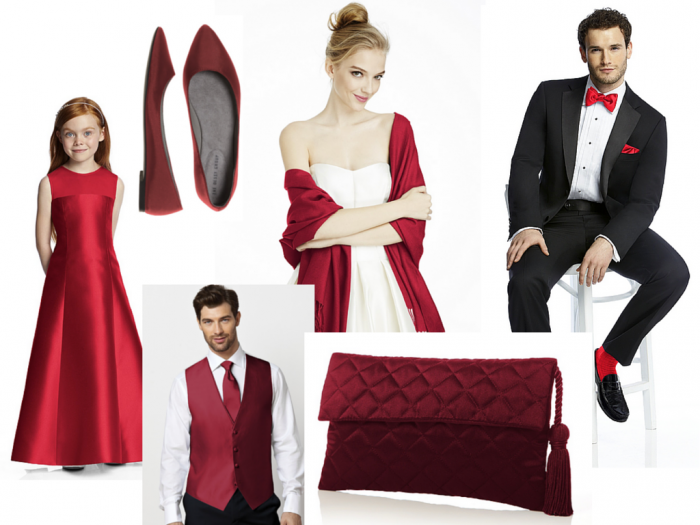 Accessories by Dessy: Clockwise from left: Flowergirl Dress FL4041 in Flame, Chelsea Satin Ballet Flat in Lola Red, Pashmina Shawl in Claret, Men's socks in Flame, Quilted Envelope Clutch in Claret £11, Mens Claret Waistcoat in Duchess Satin, Claret Satin Tie.
Are you marrying in the winter?
Then you need to make sure you have some accent colours to add the right seasonal touches to your wedding day.
Red is a classic colour in winter - echoing the brightness of winter berries and it looks wonderful on dark winter afternoons and at evening receptions.

For the Groom

You could choose a bright scarlet or go for something a little more subdued in a claret shade. Think waistcoats, cravats, ties and even socks. Who said the bridegroom has to wear dark socks on his wedding day!

For your Flower Girls

Did you have a favourite red dress when you were a little girl? Dress your flowergirls in red and they'll add a pop of colour as they walk behind you as you go to the ceremony.
Remember it's cold and chilly outside so wrap yourself, your maids and your flowergirls in red pashminas - something soft to snuggle into when photographs are being taken.

And some little extras

Your maids (and you) are going to need a little evening bag to keep those essentials in - tissues, lipstick - and Dessy has some chic numbers in scarlets, reds and clarets.
And if you're looking for classic satin ballet flats and want a colour, check out Dessy's styles - which you could embellish with sparkly shoe clips if you wanted.
Planning a winter wedding? You may also like to read:
10 Bridesmaid Dresses For Cold Wedding Days